Post Content
Rex Morgan, M.D., 3/14/19

For a long time, one of my literary pet peeves was when someone spells "trooper" the way panel one does here; in the sense of the phrase as Rex means it, it's supposed to be "trouper," as in an acting troupe, and the implication is supposed to be more of an actor's "the show must go on come what may" than soldierly doggedness. But it's something I've eased up on of late, given that troupe and troop are doublets, the same French word borrowed into English twice three centuries apart, and anyway it's not like the two senses are that far apart. Anyway, I think we can all agree that throughout this process, Brayden has shown neither a warrior's courage nor a performer's flair, so he deserves neither spelling.
Six Chix, 3/14/19

Do you suppose the diagonal squiggly line down the middle of this is supposed to be a panel marker, indicating that our protagonist is devouring all of this stale candy minutes after her dialogue, or the edge of a thought bubble, indicating that she fantasizes doing the same? Either way, I think I think it falls short of the set-up's potential: we should see her dumping all this chocolate down her gullet right in front of her interlocutors, and we would rightly laud her as a hero for it.
Dennis the Menace, 3/14/19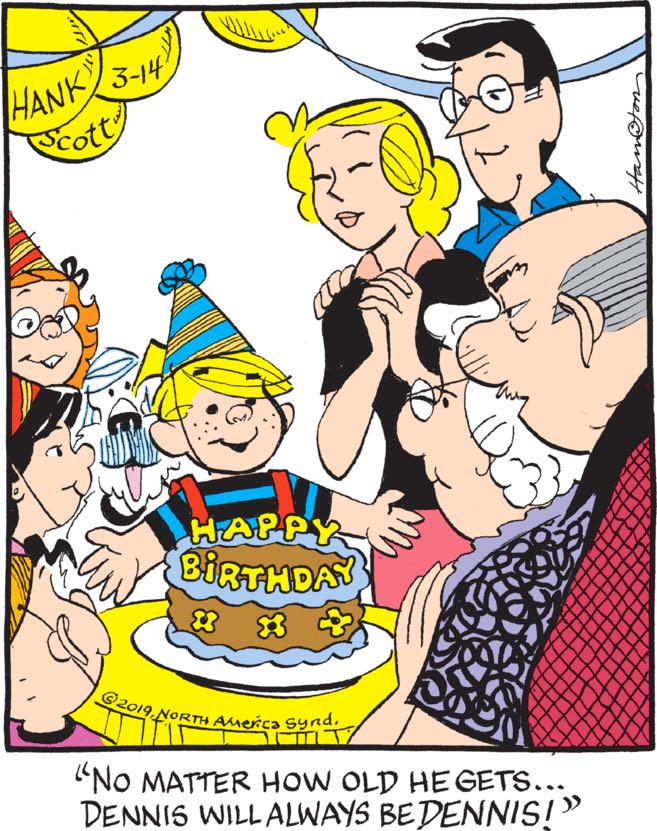 Mr. Wilson alone dares to speak the shocking truth of the comic-strip reality all of these characters share: no matter how much time passes, they will never age or change, their essential Dennis-ness and Alice-ness and Mr. Wilson-ness and so on set in stone forever. Notice that they don't even bother putting candles on Dennis's cake. Dennis … will always be Dennis.