Post Content
Dennis the Menace, 6/30/19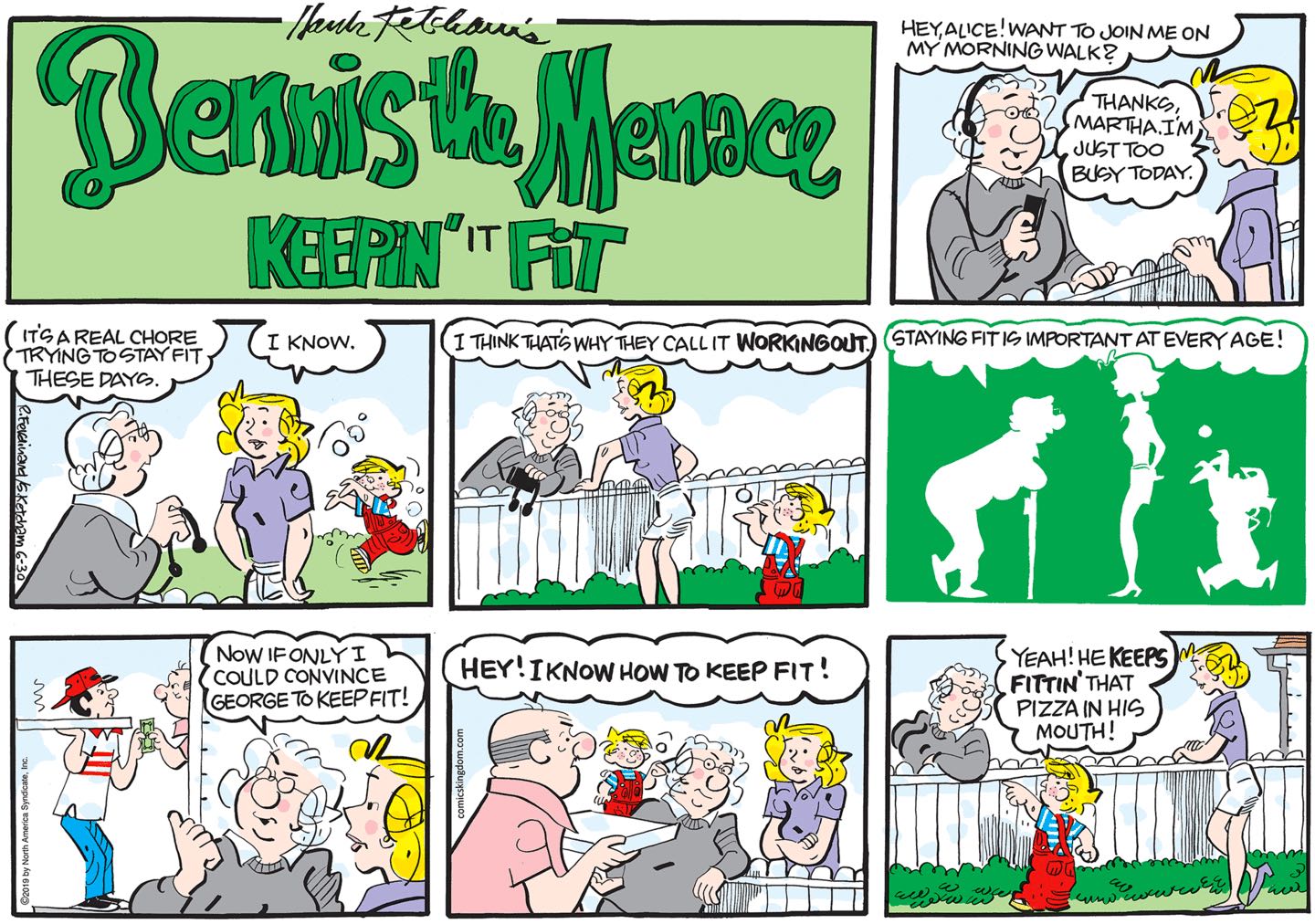 There's a lot going on here — Martha is power-walking wearing a sweatshirt over a buttoned shirt when it's apparently warm enough outside for Alice to be in short sleeves? Alice, who's never hung out with the Wilsons socially and one imagines has no plans to any time soon, perhaps means "I'm just too busy" as a polite blowoff and is not, in fact, too busy? Dennis is apparently making a ping pong ball levitate in mid-air over the palms of his hands and nobody seems to notice? — but for my money the best part is that Mr. Wilson has ordered a pizza at a time of day when nobody else appears to be eating a meal. Martha went off on one her damn walks again and he got hungry and you don't expect him to cook, do you?
Pluggers, 6/30/19

"Participation trophies" are one of those things old people love to trot out as evidence of how the kids today are soft and the reason, along with avocado toast, why they're falling behind economically (and not because, say, housing, education, and healthcare costs are rising faster than wages). Today's Pluggers has a particularly incoherent take on the concept, though. Aren't people who take vacation days … not showing up at a job? In fact, if you get paid vacation, aren't you specifically getting a trophy (which is to say, a paycheck) for not participating? I guess the point is supposed to be that people who actually take the vacation days they're eligible for — which, to be clear, are part of the compensation your employer offers you in exchange for your labor — are just doing the bare minimum, just "showing up" at the job and nothing else? But the virtuous plugger is getting paid overtime! If he really didn't want a "participation trophy," he should be agreeing to work extra hours at no charge! That's what being a good employee is, right? God, I want to be angry at the labor politics of this strip but they're so confusing I can't figure out exactly what they are! DAMN YOU PLUGGERS
Gasoline Alley, 6/30/19

This is a perfectly nice strip depicting the Gasoline Alley cast in Revolutionary War-era costume that has its vibe completely upended by the [extremely spooky voice] ~dark eagle~ in the lower left panel. Who or what is this terrifying bird? What does he portend? Is America doomed? America's doomed, right?