Post Content
Six Chix, 9/17/19

I want to pass over the actual joke at the core of today's Six Chix (ha ha, moms sure love wine, amiright) and actually get into the visual shorthand being deployed here to establish that this is, in fact, a high-powered businessman, which, no matter what else I say about it, I have to admit that it worked, because we can all agree this is supposed to be a high-powered businessman, right? Anyway, our high-powered businessman is wearing a grey suit, obviously; he's also wearing what appears to be a backpack with that suit, which more and more people are doing nowadays, but he's also carrying a briefcase, because that's a more universal high-powered businessman signifier, I guess. He's also heading down into the subway, to establish he's in New York City, the Big Apple, the nexus of all high-powered businessman energy (I will refrain from going on at great insufferable length about how the A, D, F, 1, 3, and 6 lines do not intersect anywhere). Finally, he's yelling into his phone, which is a thing that high-powered businessmen do, the way they get things done. Who exactly is he ordering wine from? Is this a thing you can do in New York: order wine, over the phone? I'm definitely not high-powered enough to know!
(UPDATE: I 100% read the old woman in the background as just walking by on the sidewalk, which I think is fair given that her body language is not that different from the other dude on the sidewalk, and she was small because she's a little further away, but I think commenters are right that she's supposed to be the mother in question and … tiny? And strapped to his back? Like a …baby would be? Jesus, this fucking strip.)
Family Circus, 9/17/19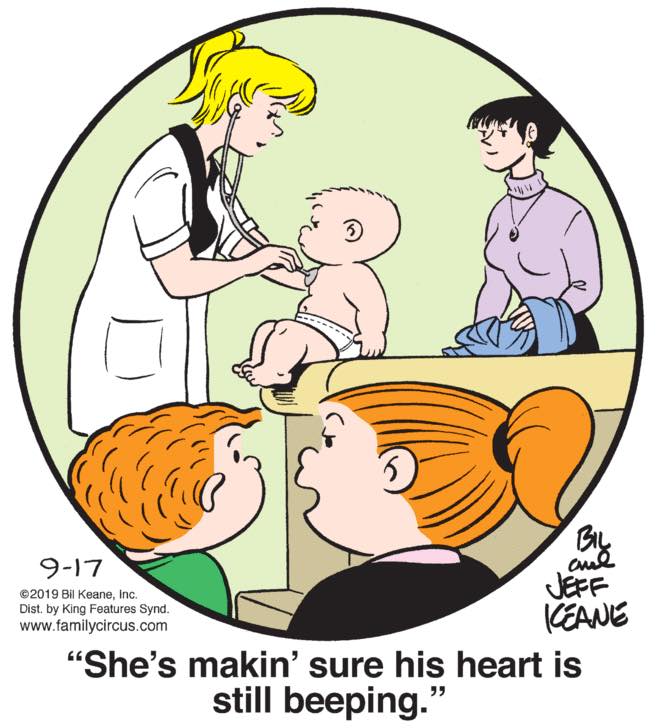 This isn't just another Dolly malapropism, folks: PJ's a robot! The older Keane Kids are biological units, but, I think we can all agree, those experiments were failures. PJ's the next generation: cleaner, more efficient. He's the future.