Post Content
Pluggers, 10/18/19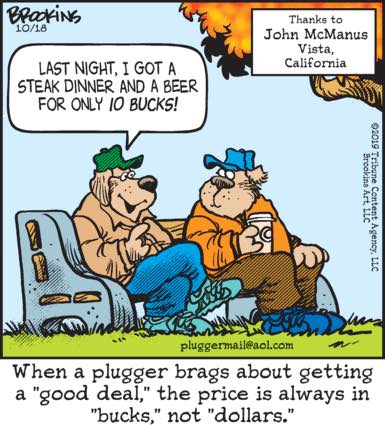 The point of Pluggers, it seems to me, is that it's meant to draw a distinction between pluggers and … the rest of the world, defined however you want (liberal elitists? big city folk? the young and the hip?). We might disagree on what exactly those distinctions are, on what communities the plugger community defines itself as not being, but I think we can all agree that today's panel — "A plugger uses an extremely common slang term in an everyday situation" — is terrible, just terrible, carrying almost no semantic content to speak of. The good news: this means we've run out of meaningful things to say about pluggers, and can shut down this strip forever.
Dennis the Menace, 10/18/19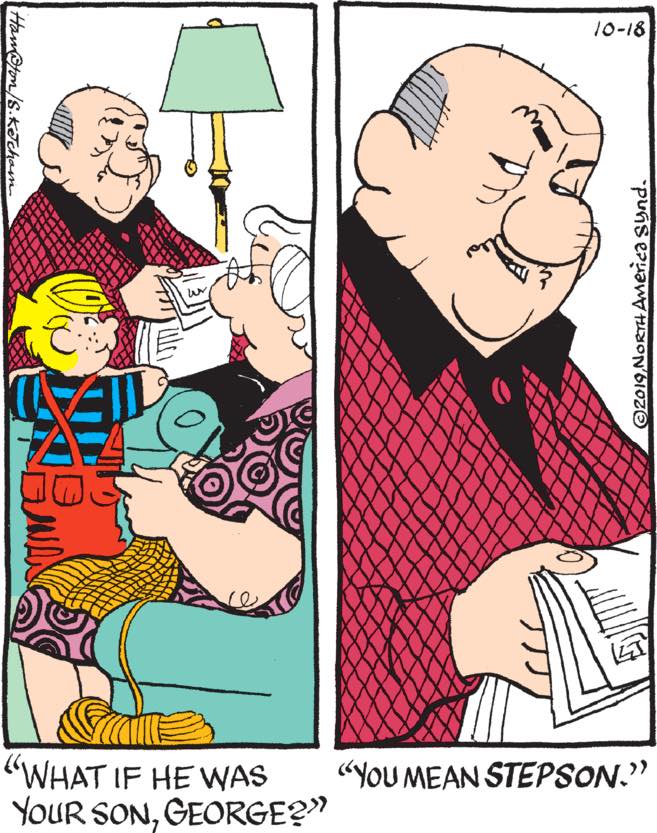 Wow, this is the Dennis the Menace that's going to be haunting my nightmares! "What if he was your son, George?" asks Martha — his wife with whom, of course, he has no children — while George looks down at Dennis with a sort of detached contemplation. I have so many questions about this! Is this some weird little game they're playing? Is Dennis already a participant in this fantasy, or do they hope he'll catch on and play along? Why does she say "your" son instead of "our" son??? I guess the "punchline" is supposed to be turning that back on her — he's not my son, I just married into him when I married you — but it's such a weird way of doing it! What the hell, man? Seriously, what the hell?
The Lockhorns, 10/18/19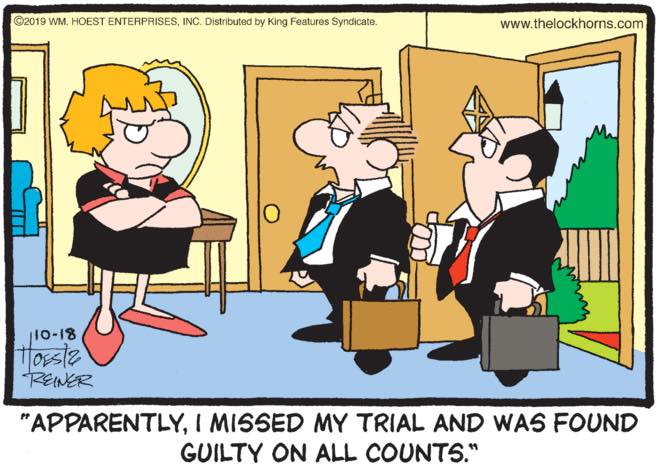 Honest to God, the first time I read this, I thought Leroy was talking to Loretta, and that he really had missed his trial and was going to jail soon. Which would be good, honestly! He should go to jail, for his crimes!