Post Content
Marvin, 1/15/21

So Marvin has been doing the thing where it mostly doesn't acknowledge the ongoing pandemic but sometimes does, like it's been doing this week, when it has jokes to make about it, which I'm on the record as being basically fine with for gag-a-day strips like this. What has been bothering me about this week, though, is that the specific joke-topic in question has been about Jeff and Jenny having to cut Marvin's hair themselves rather than take him to a professional, which makes me as a non-parent wonder: Do parents not … usually cut their babies' own hair? I remember my mom cutting my hair well into my grade school years but maybe she was unusually thrifty or times have changed? Like, are there salons that specialize in baby haircuts or do you take them to a regular place or what? Whatever the case, please enjoy this strip in which Jeff waxes rhapsodically about the scissors he bought — so sharp, so very sharp — that he'll be waving around in untrained proximity to his terrible son's temptingly soft skull.
Mary Worth, 1/15/21

"Oh good, I can demand that she answer all my probing questions now, in public! I'm helping!"
Dennis the Menace 1/15/21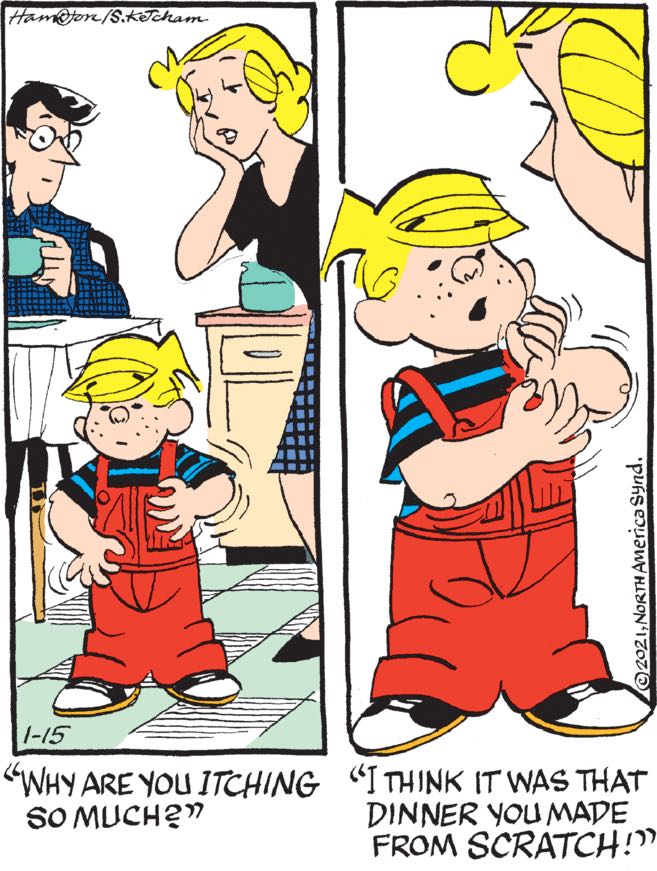 Ha ha, it's funny because Dennis doesn't understand what simple English words mean and because he has a serious undiagnosed food allergy!