Post Content
Dennis the Menace, 3/30/21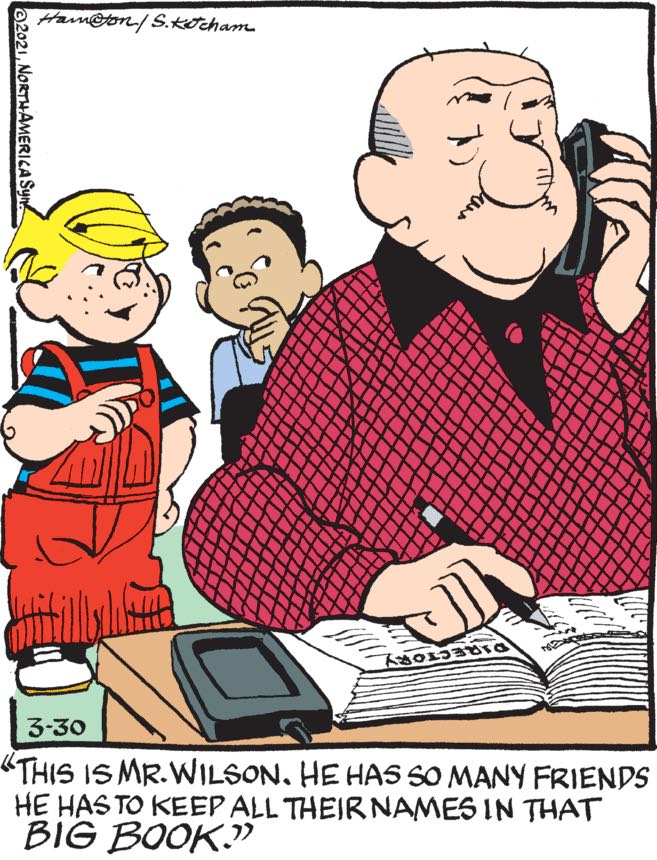 This is one of those comics where I feel like the joke is convoluted enough that I have to reason it out from first principles. Like, we know Mr. Wilson doesn't have any friends — we know this with absolute certainty — so I guess the book he's going through is supposed to be the White Pages, rather than a particularly thick personal address book, even though I'm pretty sure they stopped publishing the White Pages years ago and also the DIRECTORY heading never appeared at the top of the page in the middle of the book for whatever reason. Anyway, who do you think he's calling? Given that Dennis has upgraded his menacing from "dropping by to annoy Mr. Wilson" to "dropping by with a friend to gawk at Mr. Wilson like he's an animal at the zoo," I certainly hope that it's finally Child Protective Services.
Funky Winkerbean, 3/30/21

I guess the new hilarious "Harry Dinkle has blood running down his face" running gag comes from him biting his tongue when his god-like talent as a band director isn't recognized by the ladies of this church, who live in a different town from where he taught high school and have literally no reason to know anything about him. That said, the funnier explanation would be that his face is starting to crack due to the pressure put on it by wild swings in expressions like the one we see between panels two and three, and pretty soon it's going to just slide off the front of his head altogether.
Family Circus, 3/30/21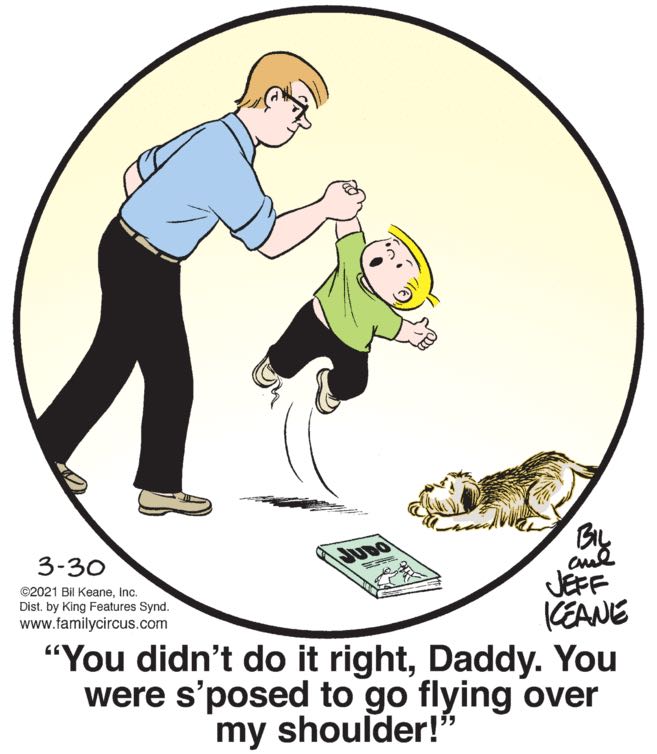 You may think Big Daddy Keane's little smile here is cruel, but you have to understand that the minute Billy is large and/or skilled enough to defeat him in single combat, his reign as head of the household — and his life — are over. That day is coming, but it hasn't come yet, Billy. Not quite yet.