Post Content
Blondie, 3/26/21

I can't quite put my finger on it, but every once in a while a character pops up in Blondie who, even though they're clearly drawn in the prevailing Blondie house style, gives off the vibe of being a caricature of a real person rather than a character made up out of whole cloth. I always assume this is done as a favor for a friend — or, in cases like today, when the dude in question is giving a knowing glance to the reader that says "eh? eh? I fell out of love with my fiance during the pandemic and no longer wish to marry her? eh?", a personal attack on a nemesis.
Dick Tracy, 3/26/21

I'm continuing to refuse to try to understand the plot of the current Dick Tracy storyline and am just going along with its ~vibes~, and honestly having a pretty good time with it! I particularly like the final panel today, with a grim-faced Tiger Lilly shoving a crude drawing of a peace sign at a cop. "This is the commune's cryptic symbol," he's saying. "Figure out what it means and you'll be able to crack this thing wide open."
Family Circus, 3/26/21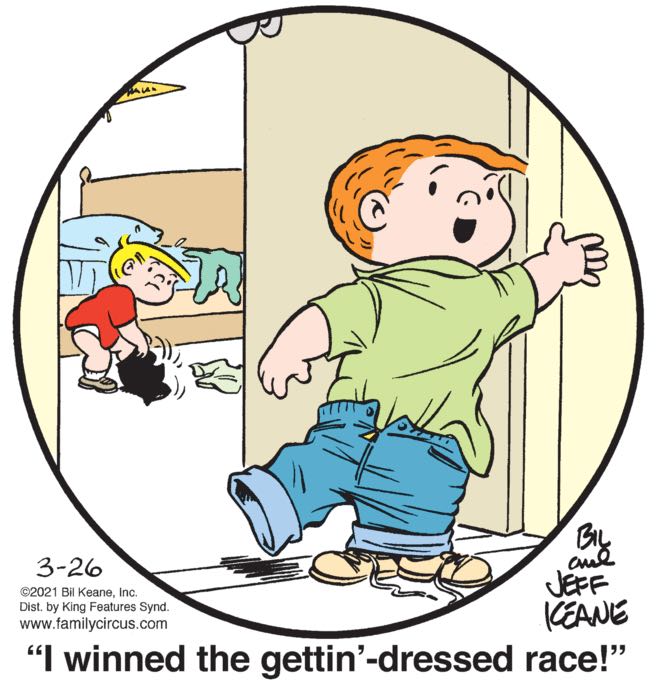 Billy looks pretty embarrassed, as well he should. If you're putting on pants the normal way and can't win a pants-putting-on-race against a kid who squirmed around until he somehow crammed both his feet through one pant leg while wearing shoes, you are not very good at putting on pants.