Post Content
Dennis the Menace, 5/3/21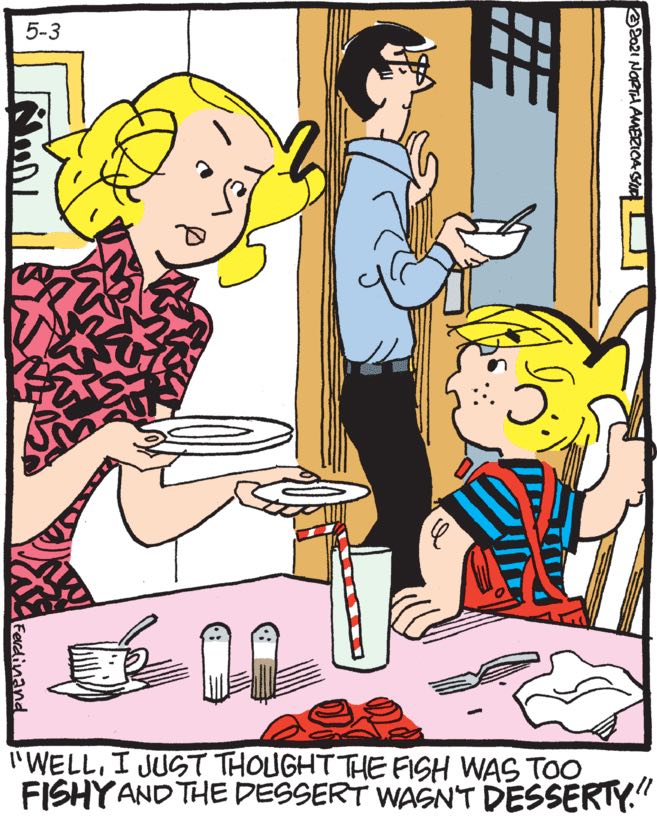 Man, clearly the menace here is not Dennis, who's merely playfully experimenting with the results of intensifying ontological categories, but rather Henry, who's walking away from the table with a smug little smirk on his face. "Ha ha, Dennis you scamp," he's thinking, "Can't let her get too comfortable! I'm carrying exactly one bowl into the kitchen, so I'm doing my part to clean up."
Dick Tracy, 5/3/21

Say, how's Sam and Dick's witness babysitting going? Well, they lost him, but then they found him again. Ha ha, police work isn't all fun and games! Sometimes it's grinding attention to detail in pursuit of a suspect, and sometimes it's endless bureaucracy and red tape. But other times it can be an invigorating round of hide and seek, which is, literally, fun and games. Enjoy it while it lasts, boys!
Judge Parker, 5/3/21

You've been tracking … the CIA's movements? Like, the whole CIA? All [checks Wikipedia] 21,500 employees? Maybe the CIA shouldn't have let April quit, she seems like she's pretty good at spy stuff.