Post Content
Rex Morgan, M.D., 4/20/23

One of my little life problems is that I have an absolutely terrible memory for names, which as you can imagine is often embarrassing, because I can usually remember a lot of other stuff about a person I've met a few times, to the extent that we're talking and hitting it off and it's no longer socially acceptable for me to not know their name, frankly. I experience this same problem with characters in newspaper comic strips, and take it from me, it's quite hard to Google the names of people in newspaper comic strips, especially when (a) you don't know their name and have to work from descriptions like "guy in Rex Morgan, M.D., whose dad is a horror comics artist" and (b) the deepest archive of textual material online about newspaper comic strips is on a blog that you yourself write, and you often find several entries where you wrote about the character whose name you're trying to find in a way that makes it very clear that you couldn't remember the name back then either and ended up writing around it.
This is a long way of saying that I do appreciate that Hank and Yvonne keep introducing themselves to Fergus, but: I've got it, now! They can stop! It's just getting weird, honestly! I guarantee you that even though Mud appears to have retained their last name, he only thinks of Yvonne as "the woman who will not shut up about 'Muddy Boots.'"
Hi and Lois, 4/20/23

Guys, the CSI franchise is very much on CBS. Were there no HBO shows you could think of for this gag? Sopranos Street? Sesame Succession? Does Walker-Browne Amalgamated Humor Industries LLC not pay its jokesmiths enough to afford premium cable?
Dennis the Menace, 4/20/23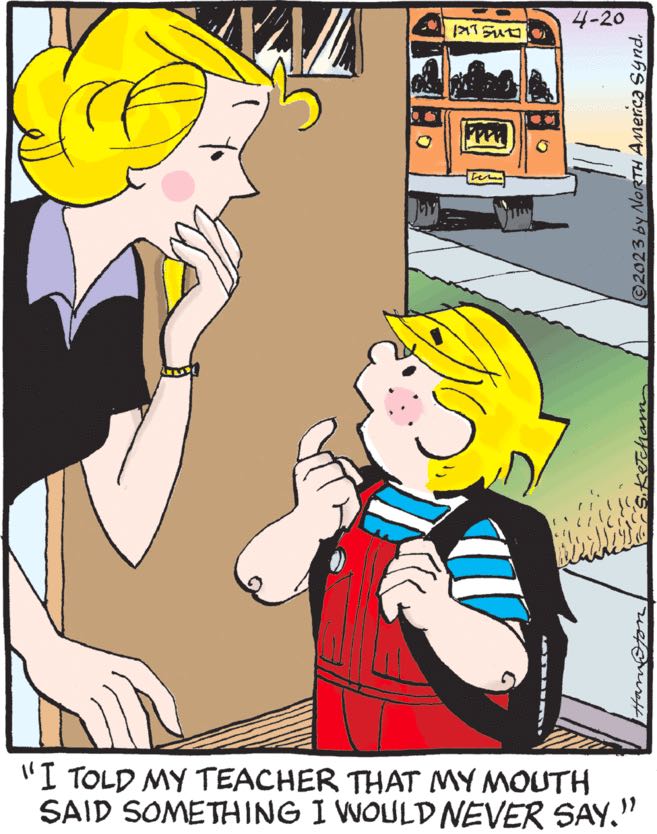 Ha ha, just a little light demonic possession! I judge this: pretty menacing.