Post Content
Mary Worth, 4/5/23

Ah ha, we've finally arrived at the big dramatic twist in this storyline: Estelle has to convince Dr. Ed to go to therapy! I look forward to the next several weeks in which she gently overcomes his emotional reserves and lets him know that admitting he needs help isn't a sign of weakn–oh, wait, what's that? He said he'd be into it literally the first time she mentioned it? Ah. Well. I guess I look forward to the next several weeks in which he tries to figure out if Estelle's therapist takes his insurance.
Family Circus, 4/5/23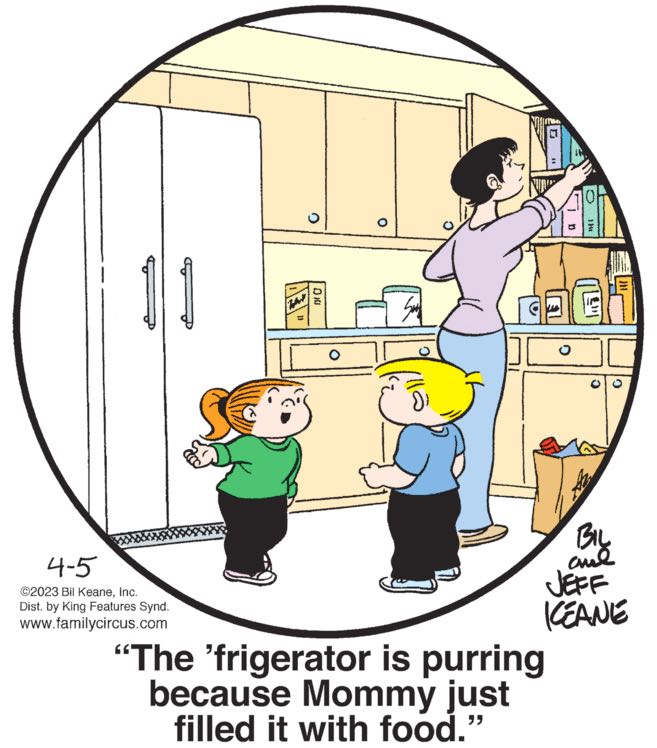 Look, Dolly, I get that your whole job is saying the darnedest things, and there are only so many darnedest things available to say in the relatively limited space of a Family Circus caption, but I feel it's very important that you not imply some kind of appliance vore fetish scenario here, because this panel will get posted in some web forums that none of us will be comfortable with.
Hagar the Horrible, 4/5/23

I think there's something of a divide between people who say "fucking" to mean any kind of sex stuff generally, and people who say it to mean specifically p-in-v or -a intercourse. We know Eddie's had a longtime romantic relationship with a mermaid, and today I guess we're learning that this relationship's sexual component has fallen into definition one but not definition two above — at least so far. I mean, that's what this strip's about, right? The prospect of penetrative sex with a mermaid? It's not a strip with another joke that also slyly makes reference to "how exactly would it work for a guy to stick his dick in a mermaid?" Like that's pretty explicitly what this one's about?