Post Content
Luann, 4/12/06

Um, Gunth, you are my brother in persecution and all, but I have to tell you that you aren't a victim of guy-bashing. You're a victim of nerd-bashing. There's a difference.
Meanwhile, in the world of superhuman heroics: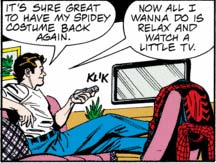 Worry not about your fears, ordinary men and women! Spider-man is on the case!