Post Content
The Lockhorns, 6/20/06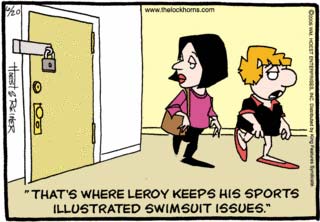 So, just in case you were wondering, the Lockhorns' marriage: still a nightmarish, soul-destroying prison from which there is no escape. As usual with this feature, once you start unpacking what's going on, it's hard to decide which aspect of this depressing vignette is the most heartbreaking:
Leroy has a porn dungeon.
The "porn" in Leroy's porn dungeon consists of PG-13-rated pictures of girls in bikinis.
Loretta knows all about Leroy's porn dungeon, possibly because he's made no attempt to hide it.
Loretta casually points out Leroy's porn dungeon to houseguests.
Loretta casually points out Leroy's porn dungeon to houseguests with that stricken yet resigned look on her face that says, "Oh, God, if I had known what was in store for me, I would have drowned myself when I was a little girl!"
Mark Trail, 6/20/06

"I've heard about it … that would make a good story! Say, did you know that the Chinese often poach tigers for their penises in order to make aphrodisiacs? You know, Mark, whenever I think of tiger penises, I think of you … tiger."
I'd love to think that my invocation of notorious Trailian temptress Kelly Welly last week caused her to appear, but really, if we're going to reach the heights achieved by the petnapping hillbilly storyline, it was pretty obvious that we needed some sex appeal, stat. Notice how courtly Mark is about pulling Kelly's chair out for her. Of course, behind her back, he's not so chivalrous.
Apartment 3-G, 6/20/06

I know she's trying to think fast and all, but is this the lamest excuse for getting caught in the act in the history of getting caught in the act? What kind of poetry would that be, Lucy? Tongue poetry?
Here are my alternative suggestions for what Lucy should have said. Clip 'n' save 'n' memorize in case you're caught in a similar bout of illicit snogging.
"It's not what you think, Tommie. Seth is in my tongue cancer awareness group. Did you know that the best way to detect a precancerous growth on your tongue is to have someone else touch it with his tongue?"
"It's not what you think, Tommie. Seth and I were just rehearsing for a play! Well, it's actually a movie. A … porno movie. OK, we're just going to get it on in front of a Webcam."
"It's not what you think, Tommie. This is Ted! He's on the run from the mob, so he had to have massive reconstructive surgery on his face."
"It's pretty much exactly what you think, Tommie. But Ted is a loser chump and Seth here is an awesome lay."
Meanwhile, Seth (if that is his name, which I doubt — if Lucy even knows his name, which she probably does but it wouldn't surprise me if she didn't) is not at all fazed by Tommie's attempt to be all like, "Hey, buddy, your lady's a cheatin' ho!" Frankly, I don't think he's even listening to her. Look at the brutish, criminal face framed by that flattop — his eyes never leave Lucy's face, and all that's running through his head is "PRETTY PRETTY PRETTY SMOOCH SMOOCH HUBBA HUBBA." Which is pretty much why Lucy likes him.
By the way, the Finger Quotin' Margo contest is now closed. I will post all the entries tomorrow sometime, if all goes well, and announce a winner … uh … as soon as I figure out how exactly to judge all the totally excellent entries I received. Geez, what have I gotten myself into?