Post Content
Mark Trail, 7/10/06

SAY, MARK! IT'S REALLY POLITE OF YOU AND RANGER RICK TO THINK OF US AND SHOUT YOUR DIALOGUE SO WE CAN HEAR IT! I'M ASSUMING THAT'S WHY YOU'RE YELLING WHILE YOU'RE TALKING, EVEN THOUGH YOU'RE ONLY INCHES AWAY FROM EACH OTHER UP IN THAT TREE! IT SORT OF MAKES ME FEEL UNGRATEFUL TO POINT OUT THAT THROUGH THE MAGIC OF CARTOONING, WE CAN "HEAR" YOU JUST FINE, EVEN THOUGH OUR PERSPECTIVE IS QUITE FAR AWAY FROM YOU! BUT REALLY, THANKS FOR BEING SO THOUGHTFUL!
OH, AND I THINK THE BEAR IS TRYING TO TELL YOU THAT HE'S GOING TO ENJOY KILLING AND EATING YOU WHEN YOU GET DOWN FROM THAT TREE, AS YOU'RE GOING TO HAVE TO DO EVENTUALLY! JUST A GUESS, THOUGH!
Those of you enraptured by Mark Trail's giant talking animals (and who isn't, really?) will enjoy this drinking game over at the Deadspin sports blog.
For Better Or For Worse, 7/10/06

I think I speak for everyone everywhere when I say that I hope this is (a) karmic retribution for the Pattersons Junior allowing their little squallers to run wild and disturb the peaceful Kelpforths in their quiet cigar-smoking repose and (b) the beginning of Mike's slow descent into madness. I might point out that Deanna seems to have been able to sleep just fine through the tinkling and the tonkling, but not through her husband's lunatic overreaction to it, yet miraculously she didn't punch him in the throat or anything. I might also point out that Mrs. C. has problems of her own in regards to sleeping through fan noise (though for her it's less TINKLE TONKLE TINKLE TONK and more CLICK CLICK WHIRRR); however, rather than wrapping the fan in scotch tape like some sort of crazy person, she just makes me turn it off.
The Lockhorns, 7/10/06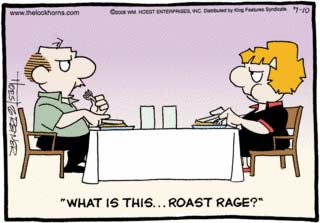 Sometimes the Lockorns is just so much about unadulterated mutual loathing that it takes my breath away. Look at the way they're glaring at each other with undisguised contempt. Roast rage is on the menu every night at Casa Lockhorn, along with buttered bile and fried green hate.