Post Content
They'll Do It Every Time, 9/9/06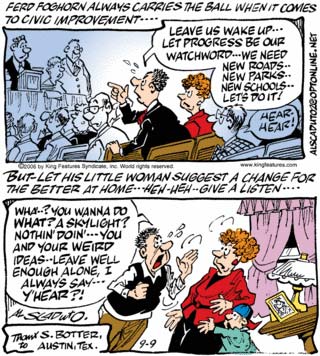 Wow, check out the lower panel here: Ol' Foghorn looks like he's about ready to slap his wife around for suggesting a little home improvement. The way terrified little Foghorn Junior is clinging to his mom implies that he knows what's coming and that this isn't the first time dad has turned nasty. Presumably Foghorn Pater's literally violent aversion to any change in his domestic scene explains the William McKinley-era aesthetic sensibility on display in the Foghorn household. The other attendees at the town meeting may feel that Fred (oh, I'm sorry, that's "Ferd") dominates civic discussion with his high-minded blather, but he clearly dominates his family in a much, much uglier way.
Apartment 3-G, 9/9/06

AAARGGH! DISCUSSION OF YOUR MARRIAGE COUNSELING SESSIONS: NOT SEXY! NOT GOING TO GET YOU LAID! ABORT, TED, ABORT!
If you're a marriage counselor, I've got to imagine that the moment when one of your clients throws her infidelity in the face of her husband has got to be kind of a professional low point.
Beetle Bailey, 9/9/06

Ha ha! It's funny because Sarge beat Beetle so savagely that many of his bones were shattered, leaving him hospitalized and in traction for months! He'll be lucky if he ever walks again! Ha ha!
Seriously, Beetle Bailey is really fucked up.