Post Content
Pluggers, 3/6/07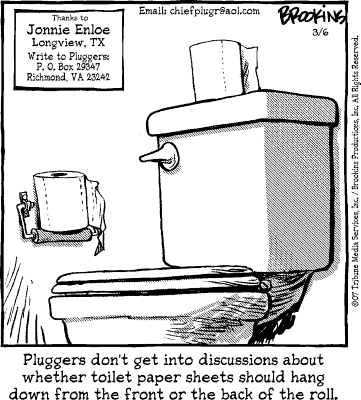 So I've been staring at this Pluggers for a while, trying to figure out how this little bathroom still life, in keeping with the mission statement for this feature, "celebrates" the plugger lifestyle. Here are the possibilities I've come up with:
Pluggers

won't put their toilet paper rolls on the little tube thingy because

they're lazy.
simple gadgets like this are the devil's work.

can't put their toilet paper rolls on the little tube thingy because

it's broken, but they're too thrifty to spend money frivolously and buy a new one.
they're ignorant and can't figure it how to do it.
they're freakish, unnatural human-animal hybrids, and their thick, nondextrous fingers prevent them from doing so.

Pluggers may defecate in enormous quantity without warning at any given moment, and thus multiple rolls of toilet paper must be kept constantly at the ready.
They'll Do It Every Time, 3/6/07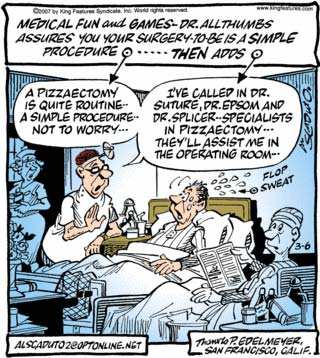 You know, if my surgeon were named "Dr. Allthumbs," I might appreciate it if he brought in some specialists to assist.
I'm kind of weirded out by the layout of this hospital room; it looks like the fellow on the right, recovering from brain surgery, has turned his bed 90 degrees so as to improve his view of the flop-sweating. He needs the entertainment, as it seems his only reading material as an airline safety information card.
Funky Winkerbean, 3/6/07

NO, DAMMIT! IN ORDER TO CONVINCE US THAT A JOKE IS CUTE, YOU HAVE TO ACTUALLY MAKE A CUTE JOKE! YOU CAN'T JUST HAVE THE CHARACTER THAT DIDN'T DELIVER THE JOKE SAY "CUTE"!
DAMMIT!