Post Content
Pluggers, 4/12/07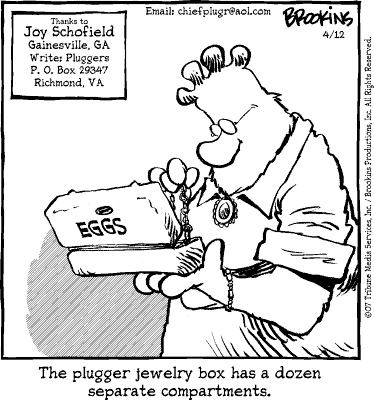 In order to avoid projecting an image of snobbery, I'll pass over the central point of today's Pluggers to say … oh, God, no, I can't. FOR PETE'S SAKE I JUST FOUND THREE JEWELRY BOXES ONLINE FOR UNDER TEN DOLLARS IN LESS THAN THIRTY SECONDS OF SEARCHING! EVEN CHEAPER ONES ARE AVAILABLE AT YOUR LOCAL SALVATION ARMY OR YARD SALE! IF YOU CAN AFFORD JEWELRY, YOU CAN AFFORD A REAL JEWELRY BOX! CHRIST!
Ahem. Moving on, if we really needed to depict a plugger making a show of her frugality by using an egg carton as a jewelry box, couldn't the she-plugger called to duty have been the kangaroo-lady or the dog-lady or a lady of some species that doesn't, you know, LAY FREAKIN' EGGS? Because when I first saw this cartoon, I thought the caption was going to be "A plugger makes jewelry from the bones of her children."
Luann, 4/12/07

I'm an only child, which, for the record, is awesome, as I never had to learn how to "share" or any of that crap. However, it means that I don't really have an instinctual feel for how brother-sister relationships work. But I'm pretty sure that no brother has ever boasted to his sister about the sexual playground that is his enormous king-sized bed. Plus, I'm pretty sure that nobody ever has boasted to anyone about their "super quilted pillowtop", whatever the hell that is. Dude, if you're going to boast about your bed's comfort features, trust me: it's all about the thread count on the sheets. Though that's really more an "impress them while they're there" feature than a "get them in there" feature. You shouldn't be bragging about it. Especially not to your sister. Ew.