Post Content
Two random photos for your amusement this evening! First, faithful reader Dingo (in the grey) and his boyfriend (in the black) recreated the now-legendary "Coach Kaz punches out a drunken lout" photo: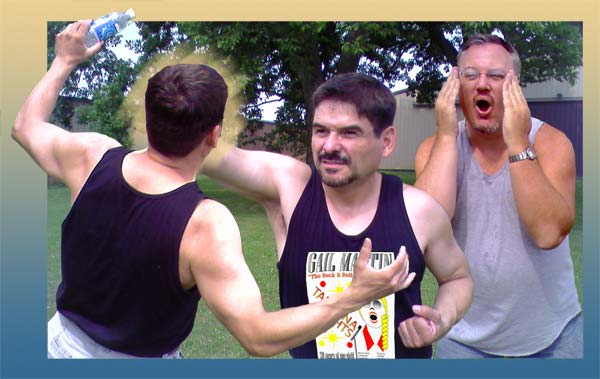 "You know someone really loves you when they'll allow you to pose them to recreate a Gil Thorp panel," he says, and truer words have never been spoken. Sadly for those of you who actually requested a dark Gail Martin tank top, the one you see in this picture is the result of digital photo-trickery, not the honest heat transfer technology available from CafePress.
Speaking of bizarre expressions of love involving Gil Thorp, among the awesome haul of b-day gifts I got from my wife yesterday were several comic-themed presents, including a Roz Chast collection and book of cartoons rejected by the New Yorker. Surely the most photogenic, though, was this fabulous Gil Thorp t-shirt.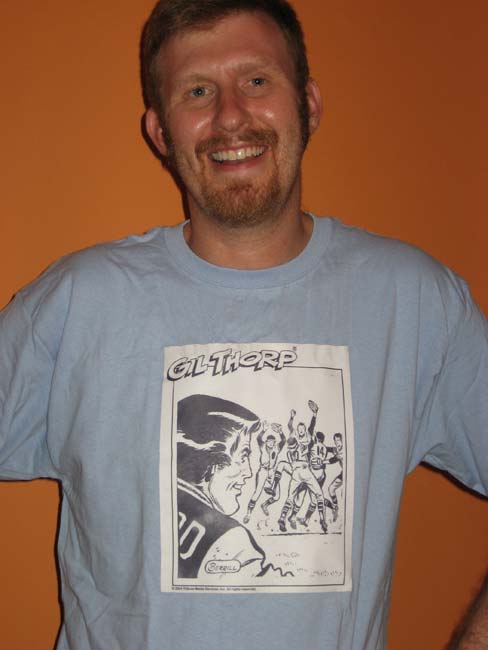 I was going to put a link to the site where you can buy official Gil Thorp merch like this for you and your loved ones, in part as an act of atonement for my profiting off of my own t-shirts, but clicking on the "Merchandise" link on the official Gil Thorp brings you to an error page. Did Amber buy the last one ever?
Update: Apparently not. Buy your own!