Post Content
People! Do you recall that I told you some weeks ago about the glory and majesty of Mark Trail Theater, a genuine Mark Trail-simulating performance in which your humble blogger would appear? And that it would be part of a larger variety show called Glitterama that would include many other acts that you would find amusing and amazing? It has come to my attention that many of you live within easy reach of Baltimore, and yet have not acquired tickets! This post will give you an opportunity to rectify your oversight! The details, again, for those that missed it:
What: Mark Trail Theater, an eight-or-so-minute play that both lampoons and pays homage to America's favorite asexual cartoon outdoorsman, Mark Trail, within the context of a larger variety show! Other acts in the show include comedy, burlesque, acrobatics, and more! Some acts may contain nudity, raunchiness, or inscrutable performance art, not appropriate for the younger kiddies, etc.
Who: Me, my lovely wife, and several fellow aficionados of Mark Trail and/or irony, including a guy who looks uncannily like Mark Trail and another guy who we conned into wearing this bear suit:

When: Friday, November 9th at 8 p.m.; Saturday, November 10th and 7 p.m. and 10 p.m. Doors open 30 minutes before show time.
Where: Load of Fun Studios at 120 W. North Avenue in Baltimore. Mere steps away from the main Baltimore train station, so if you're thinking, "Gee, I live in Washington/Philadelphia and don't have a car, so I can't come," YOU JUST LOST YOUR EXCUSE, BUSTER!
How: Huh, I … I don't know exactly what that question means in this context. Oh, you want to know how to buy tickets? Well, you can buy them at the door, or reserve them online at Brown Paper Tickets. Only $10!
(Since I encourage the dramatization of Mark Trail in as many media as possible, I must point out that an entirely separate group of kindred spirits already do Mark Trail Theater … on the radio!)
Speaking of acting out comics: The unstoppable mother-daughter team of faithful readers that is Rainbird and Huntinbyrd felt that last Thursday's Mary Worth cried out for a re-enactment. I think you'll find the results both delightful and unsettling, just as I did: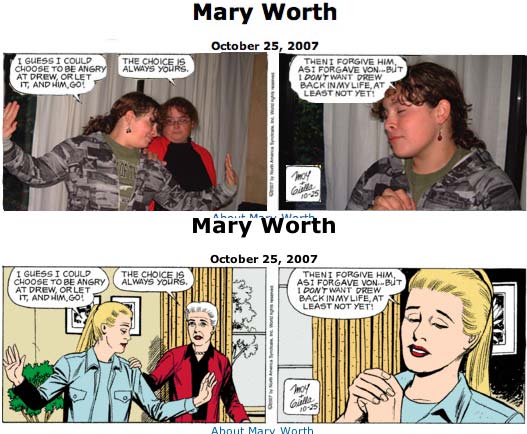 And finally, faithful reader Toonhead has taken those bizarre body angles and karate-chop motions that we all know and love so well from Mary Worth and to their logical extreme by editing them together and adding 1974's smash novelty hit "Kung Fu Fighting" as a soundtrack. Enjoy!