Post Content
Apartment 3-G, 11/16/07

And then Apartment 3-G, was all like "Oh hey didn't we have this whole thing going where we were broadly hinting that the Professor had this obnoxious much younger girlfriend?" Now of course, the man in the camel-hair suit must choose between a pair of unappealing extremes, which should make for good fun for a day or two. I'm hoping for a Fatal Attraction style scenario myself. "Oh, Ari, I was screaming at the top of my lungs because I thought that maybe you were stepping out on me and I was going to have to stab you to death. But now that you're here, I know it was just a silly figment of my imagination! Say, who's the touring-company Blanche DuBois over here?"
Judge Parker, 11/16/07

OK, this has been bothering me ever since the bottled water angle came up and I haven't said anything because it's not funny but … but … HEY SOPHIE! YOU KNOW WHAT WOULD BE REALLY ENVIRONMENTALLY FRIENDLY? IF WE HAD SOME WAY TO GET CLEAN, POTABLE WATER TO JUST ABOUT EVERY HOME IN AMERICA THAT DIDN'T INVOLVE BOTTLES OR TRUCKS AT ALL! LIKE, IF IT COULD JUST FLOW THROUGH PIPES OF SOME SORT! HUNDREDS OF GALLONS LITERALLY ON TAP AT ANY TIME FOR A COUPLE OF DOLLARS A DAY! WITH NO BOTTLES TO THROW OUT AND NO FOSSIL FUELS USED IN TRANSPORTING IT! I KNOW, PIPE DREAM, RIGHT?
Okay, no more of that, I promise. But still … edible fucking bottles? Honestly.
Family Circus, 11/16/07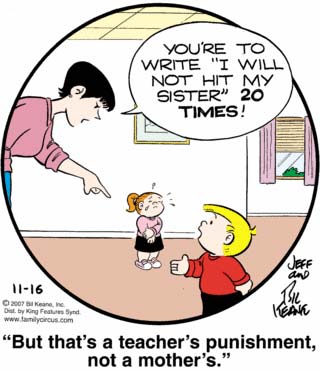 "Mothers are supposed to beat their children when they disobey. You're weak, Mommy, just like Daddy says, just like your crying little daughter over there. Weak."
Rex Morgan, M.D., 11/16/07

"And always wet your hands before you handle a trout!"
…
"And always wet your hands before you handle a trout!"
…
Honestly, I … I don't even know what anybody expects me to say about this stuff anymore. At least the unpleasant pederastic overtones have been removed, since Niki now appears to be approximately 25 in that final panel. Fish on, fellas.