Post Content
Hey, it's Fashion Week on the funny page, and here come the Judge!
Judge Parker, 6/26/2008

Well! Since he returned last week from his mysterious eighteen-month retreat, the fashion world has waited breathlessly for their first peek under the robe of our own Judge Alan Parker. Speculation has been nonstop, and wild! What will we find under that robe he wears night and day? His pyjamas? Nothing at all? Mrs. Parker? Now the mystery is revealed, and . . . well, he can close the robe back up. Really, Judge. Go right ahead.
Judge Parker, 8/7/2007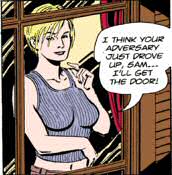 Of course, Judge Parker holds court for more than just the latest styles: look to the House of Parker for tips on fabric care, too! Like this one: to achieve her casual "off the rack" look, wine-country fashionista Trudi lightly steams her ribbed tops over the grillwork of a 1955 Buick Roadmaster!
Mary Worth, 6/26/2008

And would any Fashion Week be complete without an appearance by our First Lady of Fashion, Mary Worth? Here, Mary appears in a simple but elegant romper, set off by her ever-present pearl choker. Mary's appearance this year is marred by controversy over rumors she's invited a new partner into her circle, displacing her partner of many years, Dr. Jefferson Cory.
Mary Worth, 7/4/2006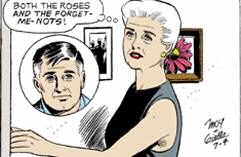 Not long ago, Cory occupied a prominent place in Mary's circle — but tonight there's a table for one at the Bum Boat with his name on it!
Luann, 6/26/2008

Finally, let's look in on fashion's own Odd Couple. Just minutes after his close escape, TJ is back in his cool, casual, classic look — and back to looking out for number 1! And while Brad's ensemble may say "World War I Doughboy" on the outside, he's showing the world he's Pillsbury Doughboy on the inside!
Hey, what are your comic fashion picks and pans?
— Uncle Lumpy