Post Content
Spider-Man, 1/16/09

Most of us actually go out and do things when we're in college, but once we get older and get married, we mostly just stay at home, watch TV, and bitch about stuff that annoys us. So it perhaps shouldn't be surprising that newly time-jumped college-age Spider-Man is engaging in a surprising amount of superheroics. Fortunately, the core attribute of the Spider-Man newspaper universe — namely, that everyone there is dumber than a box of hair — remains unchanged. Our hero has been knocked unconscious by a stream of water he unleashed himself, and our "triumphant" villain is driving off in armored car of loot with its rear doors open, allowing said loot to fly out into the street as he makes his getaway.
Dennis the Menace, 1/16/09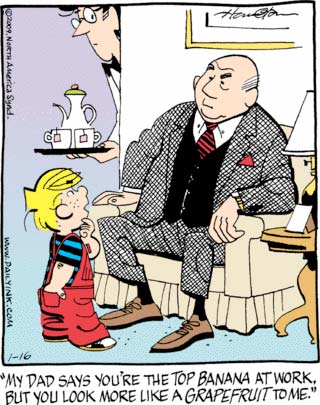 Isn't Dennis's usual schtick in this context to repeat insulting things his parents have said behind their unsuspecting guest's back, rather than just letting lose with his own insults? As this is the sort of thing that can laughed off thanks to kids and their darndest-thing-saying ways, I judge it to be less menacing, unless "grapefruit" is some kind of obscure ethnic slur that I'm not familiar with.
Ziggy, 1/16/09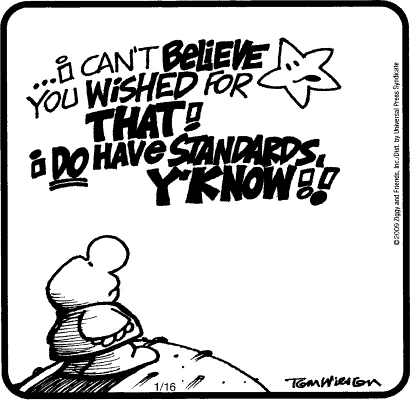 Ha ha, Ziggy asked the star to fulfill some foul, perverted sex fantasy!
Wait, did I say "ha, ha"? I meant "OH GOD I JUST THOUGHT ABOUT ZIGGY'S SEX FANTASIES WHY WHY WHY"
Family Circus, 1/16/09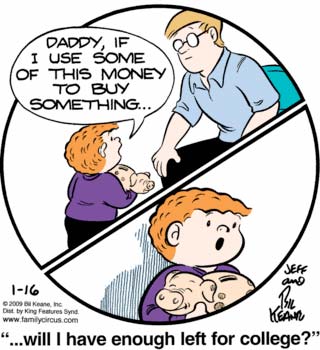 Aw, isn't that cute! Jeffy thinks he's going to college!