Post Content
Marvin, 2/13/09

Ha ha ha, Marvin, doesn't want his grandmother to "touch" his "buttons," if you know what I mean!
No, but seriously, Marvin is quite right to be terrified, since his grandmother is obviously some kind of sinister witch. Based on what happened to his mother, he fears that she'll de-age him to a similar extent, trasforming him into a blastocyst. And because he's Marvin, it would be the worst blastocyst in the entire world.
Mary Worth, 2/13/09

"Look, Mary, if there's one thing I've tried to instill in my children, it's a crippling sense of shame at doing anything that anyone might find even remotely out of the ordinary! I'm sure she's totally dying inside just thinking about anyone finding out about this whole Internet dating thing, so you're going to want to wait to bust it out when it will have a maximum impact — at her wedding, say."
Hi and Lois, 2/13/09

Unlike adults, who totally like spending their idle time with their friends with other people hovering over them. Especially when those other people are their parents! That's why Hi and Lois spend so much of their social time with their own parents. Oh, wait, no, they put them in that substandard nursing home, in another state.
Family Circus, 2/13/09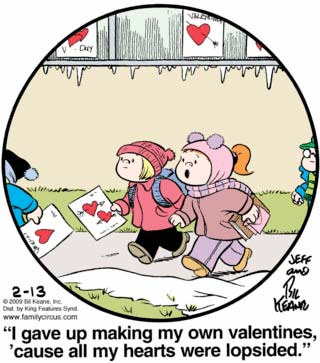 Dolly is supplementing her allowance by working as a guerilla marketing agent for the Hallmark Corporation.