Post Content
Mark Trail, 5/6/09

Ha, what's the strange taste in your mouth, Mark? Could it be betrayal? "But … Rusty is my half-neglected ward! Why would he want to go off and become the ward of these other men? Haven't I done enough for him? I let him wander unsupervised around the forest! I got him that whiny little dog! I've convinced him that that toy camera I gave him has a 'memory card' inside! Sometimes I let him interact with other humans! Am I a bad quasi-legal guardian? Could he really prefer a man with sideburns to me?"
In the wake of Rusty's departure, Mark will have to take a good, hard look at his other relationships, and figure out what he needs to do keep them strong. Will he agree to increase the frequency of his marital relations with Cherry to thrice annually? Stay tuned!
Pluggers, 5/6/09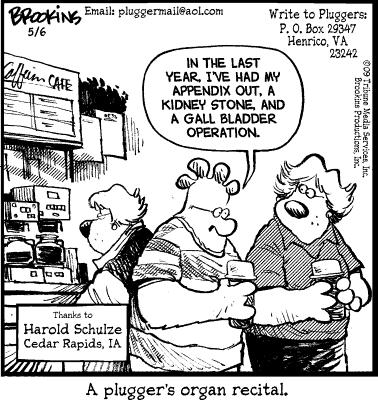 Sex organs aren't the list, as pluggers haven't had anything to do with them — not anyone else's, and certainly not their own, as that's the devil's work — for years.
Dennis the Menace, 5/6/09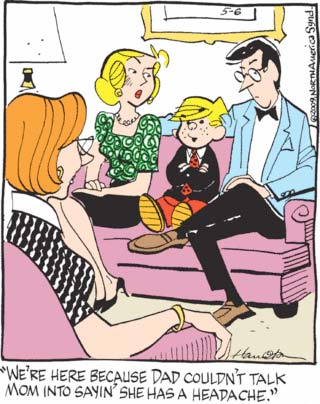 As one might have expected, Dennis has made the Mitchells' weekly three-way with their neighbor particularly awkward.