Post Content
Fall Fundraiser update: So ends another week-long gin and Ritalin® binge Comics Curmudgeon fundraiser. Thank you for your generosity and patience — no more formal appeals until spring, promise! Of course, you can still contribute and get a bracelet for a week or so, and that PayPal button is always over there at the left — just sayin'! Seriously, you folks are great – thank you!
---
Funky Winkerbean, 9/26/09

Oh, game on! Serial P.O.W. Wally Winkerbean proves that brain damage or no, he's still the disarming ladies' man of days gone by. Five bucks on the table and Rana beams "that's my Dad", while Comic John's Bat-cojones shrink to Robins' eggs.

Shaky or no, drug-addled elderskank Bobbie Merrill still got game — Ruby passive-aggressively accepts her downgrade from friend to neighbor, as Bobbie deftly snags the "Doc" for an afternoon Ambien® adventure.
Beetle Bailey, 9/26/09

And who doesn't love the Game of Golf? Ida Know, Not Me! General Halftrack's odd collection of fetish objects suggests he's a latter-day Fulvius Stella, lighting a white candle to invoke the tender mercies of Celtic Horse Goddess Epona, with a martini at the ready to help him forget That Special Night. And all dressed up for a Morris Dance.
And a few final matters —
---
Margo Moments — a Fall Fundraiser special, part 7
Apartment 3-G (panels) — 2/17, 3/13, 4/28, 5/11, 5/31, 6/23, 7/15, 7/21, 8/23, 9/13/2009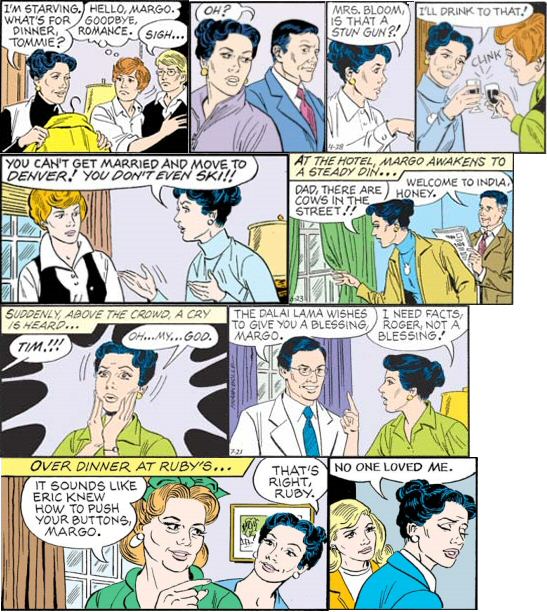 OK, you're all up to date. What will Margo do next? Stay tuned!
Margo, Queen of the Universe!
Bracelet pix have been pouring in from Middle Earth to deepest space (the final frontier!), furthest Afghanistan to deepest Baltimore, Santa Royale General Hospital to a lonely Lhasa morgue. Here's a sample: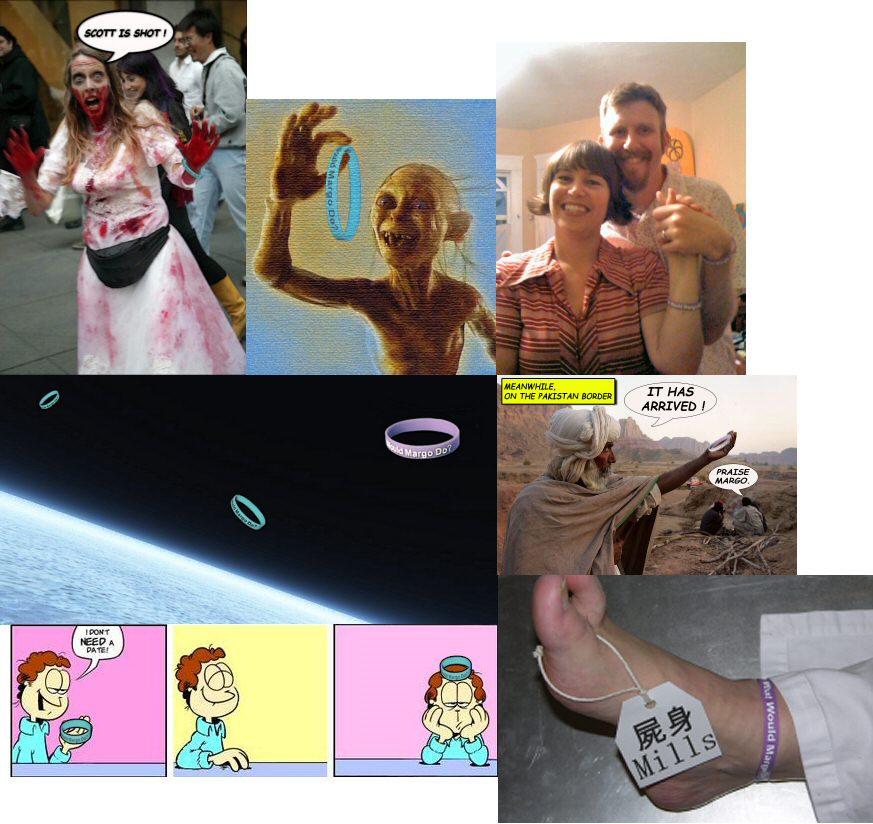 Thanks to faithful reader AeroSquid, Josh and Amber and Aunt Lumpy for photographic documentation of the awesome range and power of What Margo Would Do!
Josh will be back Sunday; look for Sunday comics in the early evening. This has been a fun week; thanks, everybody!
— Uncle Lumpy