Post Content
Hey, it's the Comics Curmudgeon Fall Fundraiser — your contributions help keep this site strong and independent!
Click the banner above to contribute any amount — and receive your "What Would Margo Do?" bracelet with our thanks! Full details here.

Fundraiser update: Bracelets are in the mail to Wednesday contributors – thank you! If you receive yours before Saturday, please forward a photo of it on your wrist for me to post here! The address is uncle.lumpy@comcast.net — cellphone pix are fine. Thanks!
---
Apartment 3-G, 9/24/09

"Oh, my goodness, Ms. Merrill, you almost stepped in front of that bus!! Oh, and by the way, how're you doing on that 'prescription' I wrote for you?"
Mother Goose and Grimm, 9/24/09

"Costumes or no costumes, fellas, "Talk Like a Pirate" Day was last Saturday — why don't we try a nice technology joke instead?"
Mark Trail, 9/24/09

I got nuthin' — except Mark and the turtle in the same relaxed pose, with the same adorable expression. Hope it starts a trend!
---
Margo Moments — a Fall Fundraiser special, part 5
Apartment 3-G (panels) — 2/4, 2/5, 2/10, 2/27, 3/16, 4/15, 5/29, 6/23, 7/23/2008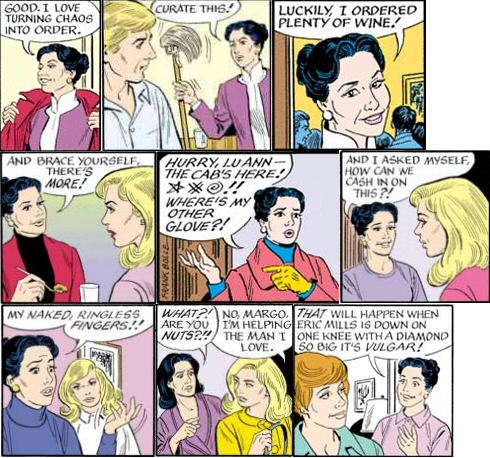 ---
Booze, power, money, and the promise of love — live "Margo large" when you contribute to The Comics Curmudgeon. Every contributor receives an exclusive glow-in-the-dark "What Would Margo Do?" bracelet, to help you "seize the day" — and anything else you've got your eye on!
— Uncle Lumpy