Post Content
Your COTW momentarily, but first, some funny comics-related pictures from READERS LIKE YOU! The first set comes from faithful reader Karina, who attended a Mardi Gras party thrown by friends:
They have a themed costume party every year — and this year the theme was "The Funny Pages." So what's a red-blooded conservation-minded girl to do? Dress like Mark Trail, despite knowing full well that no one would ever know who she was dressed as. I even made a giant punching fist, crudely fashioned from cardboard and masking tape!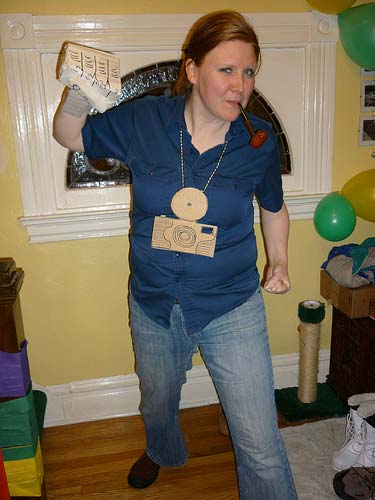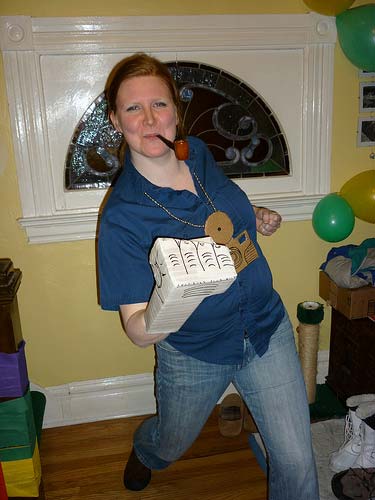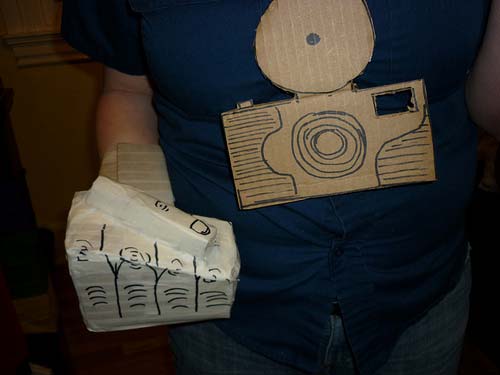 I'm sorry to report that I did NOT win the award for best costume — but as that went to the guy in the bloody shirt wielding a machete and dressed as "Not Me" from the Family Circus I am totally ok about it.
Next! You might remember the pics sent by faithful reader Kattack of her trip to Monterey's Dennis the Menace Playground. Faithful reader Jordon was inspired by them to take his own four sons to this sacred spot where, in his words, they decided to "show Dennis what Menacing is all about!"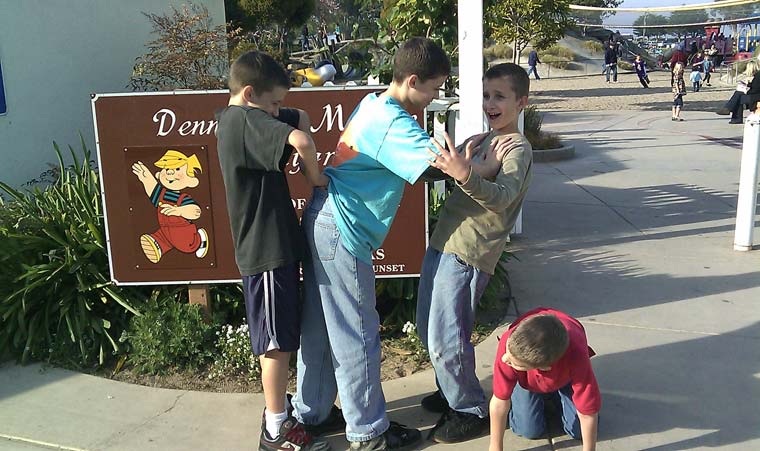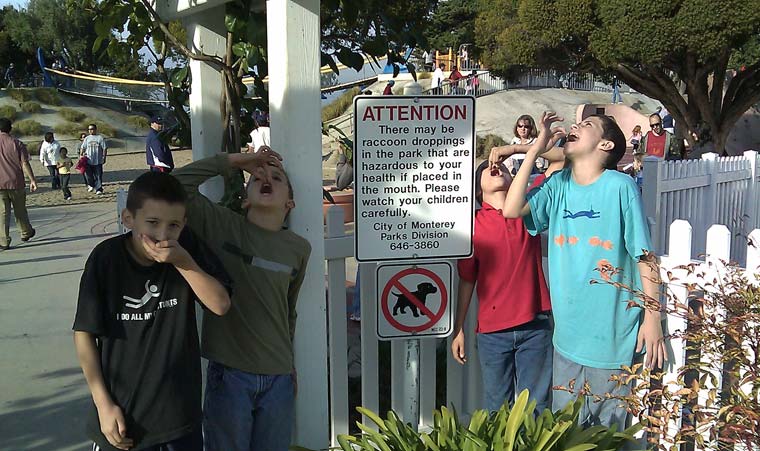 Those are some rambunctious boys you've got there, Jordon! Let's hope Child Protective Services doesn't read this blog.
And now: your comment of the week!
"I imagine that whenever Peter Parker forgets his camera, he'll hold an invisible camera near his face and make a clicking motion with his finger before exclaiming, 'Oh no! I forgot my camera at the hotel!'" –survivor
And the runners up! Very funny!
"This actually looks like the idealized plugger version of a ventriloquist act, featuring a dummy who does not backsass his elders and instead is curious to learn about How Things Used To Be." –Joe Blevins

"What is Gunther even doing over there flailing near the dancers? He's probably well aware that he can't dance and likely never volunteered, and he doesn't seem the sort to act like a jackass in front of everyone. Maybe he was violently pushed backwards and is now about to crash into the ensemble. However, this impossible trio of male ballet dancers are too method to let an incoming nerd break their poise." –Taquelli

"I had a decent joke about Grossie's bust all ready, but the more I typed, the more hateful and insulting it became. The funniest reaction you can have with Crock is, as usual, to just hate yourself for even laying eyes on it." –turingcub

"I think Crankshaft's main contribution to the garden club is his role in giving the ladies the incentive they need to do the hard work of tilling the soil, by fantasizing that they are digging his grave." –seismic-2

"When you're large you're in charge! And when your testicles are visible, then you are also in charge!" –Lame Caulfield

"Dick Tracy, one month from now: 'You were under a lot of stress at the concert. How about a nice relaxing day at the races?' [Cut to villains implanting small thermonuclear device into what we infer is probably a horse]" –One-eyed Wolfdog

"Aww, Dolly said 'anfem' instead of 'anthem!' Isn't that cute, and by cute I mean makes me want to punch a baby?" –Violet

"Before I read the caption, I thought the Keane Kids were watching The Lawrence Welk Show. Seriously. The black-and-white image, the rounded men in sweater vests with 50s haircuts, the musical notes rising up. Too bad the circle cuts off our view of the rabbit ears on top of the set. What sport could that trio have possibly competed in? Shuffleboard? Yodeling?" –Dondi's Dad

"The only event the Keane kids are allowed to watch is the 25m sweatsuit run. Also it looks like Mom and Dad turned the hue on the television down so they don't start asking questions about skin colours." –It's time to pay the price

"I would also like to note that Family Circus is flirting with Herb and Jamaal-style non-specificity. Granted, they really should take it the full way: 'Oh, I like that song related to their political union. I hope they achieve high ranks in other competitions'. That way, this comic will stay fresh after the demise of both the Olympic games, sports in general, and the concept of the nation-state." –Tiako

"The Keane Kids don't really watch the Olympics, just VHS recordings of every American gold medal win since 1984. Dolly probably just doesn't recognize her own anthem through the haze of decade-old magnetic tape." –BananaSam

"Meanwhile, Kurt has fallen afoul of the Weston household's obsessive penny-pinching. Write it down if you have to: Store-brand denture cream is a rip-off." –Walker of Dog

"I'm not convinced that's really Wilbur and a computer in the second panel. First of all, the 'computer monitor' is hovering about three feet above the desk, but more importantly, HE HAS NO LEGS! I'm guessing he put a half-complete Wilbur doll in front of a wall hanging, realizing his children are too dumb to notice, and sneaked off for a Craigslist 'Casual Encounter.'" –Yanni

"Zip it, Dad!! Or button it! Or whatever it is you do to keep that toupee from falling off your head!" –Hibbleton

"The answer to the Jumble is obvious, as always: COCAINE." –Poewar

"Toots, meanwhile, is modeling the latest from the Department of Homeland Security, fashions designed to reflect the latest terror threat level. As the situation becomes graver, more and more stripes become Alarmed Aqua." –boojum

"I like how that raptor is hunching up as it casts a baleful eye towards the reader. 'Oh god,' it's thinking, 'the paparazzi.'" –Anonymous

"Hmmm…these rapids didn't cure you. Maybe I should try to punching your heart again. After all, chest hair is just the heart's beard." –skullcrusherjones
Big thanks to everyone who put cash in my tip jar! And we must of course give thanks to our advertisers:
What's your philosophy? Visual philosophy printed on the highest quality t-shirts available!
Advertise your t-shirts here: Find out more about the BlogAds t-shirt hive! Connect with young adults eager to sport your shirts! Reaching a tremendously expansive audience at a very low cost, the BlogAds T-Shirt Hive is comprised of a well-rounded set of over 30 social media elite blogs, who speak to a young hip male and female audience of clothing enthusiasts. These readers are seeking back to school threads, everyday wear and tear shirts, and any clothes that are stylish or humorous.
To find out more about advertising on this site, click here.