Post Content
Shoe, 8/13/10

This diner patron has suddenly realized that the ambiguities of the verb "serve" could be deadly in a world of talking animals. We already know that the birds in the strip eat other birds, so why wouldn't Roz just kill her bird-man customer and feed him to a fish-man? No reason. No reason at all why she wouldn't. Better tip big, bird-man!
Family Circus, 8/13/10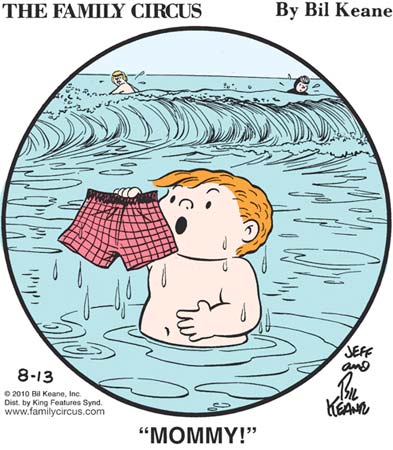 The whole "Keanes go to the beach" storyline we've been enjoying (for certain limited definitions of "enjoying") over the past couple of weeks is, as several readers have pointed out, a repeat from the '70s or '80s. Certainly that was a more innocent time, when Jeffy's brazen nudity was merely implied and not rubbed in our faces.
Barney Google and Snuffy Smith, 8/13/10

"No, yore paw is passed out, from th' likker."