Post Content
Curtis, 9/26/10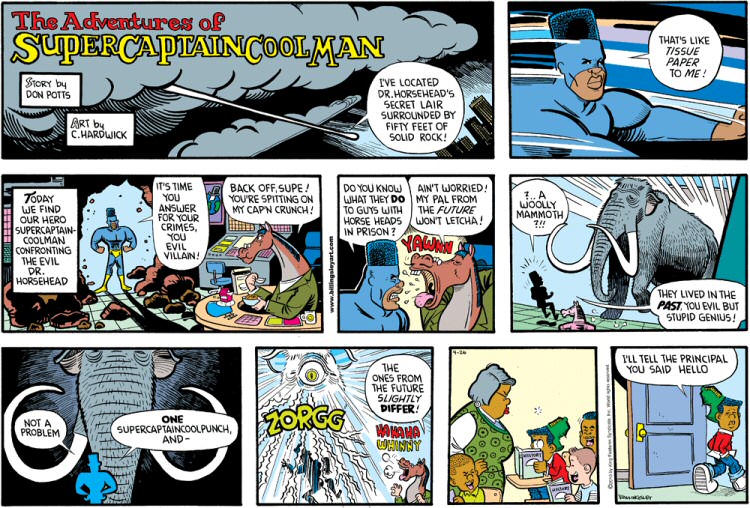 Curtis shackles its artist's powerful, primitive vision and impeccable draftsmanship to the well-thumbed sheaf of stock narratives the world expects from a genre strip. Hey, it's a living. But art will out! The strip slips its narrative fetters once a year for Kwanzaa, and once in a while for its title character's superhero fantasies.
There's so much to love here: the spandex mask rising to wrap SuperCaptainCoolMan's improbable coiffure, the villain's breakfast, mustache, and pince-nez, the allusion to confusing and unspeakable prison sex, "…you evil but stupid genius", and that implacable wall o' mammoth. But best of all, the electric elephant stinkeye at the climax, and "ZORGG." A worthy successor to QLUNQ! HA HA HA WHINNY!
Then back to earth for a tired "principal's office" joke — and maybe Derrick and "Onion" waiting in the hall? The nicest trips end far too soon.
Mark Trail, 9/26/10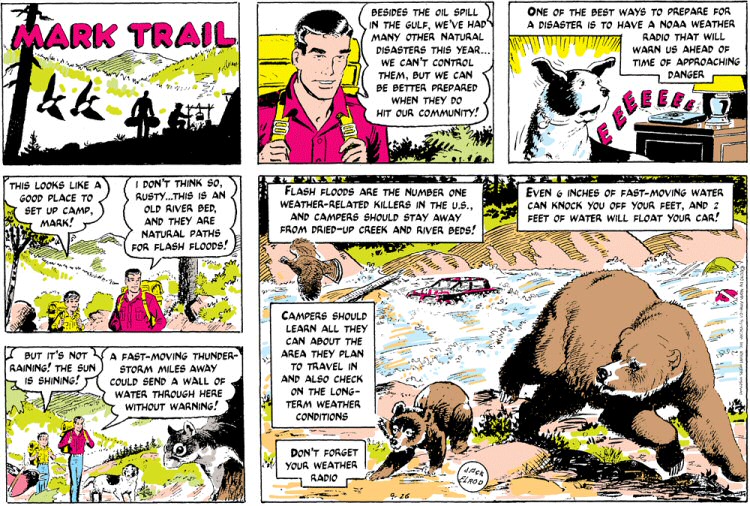 Mark's part-time gig with the National Oceanic and Atmospheric Administration has slowly but completely corrupted his principles as an Outdoor Journalist. No longer does he implore readers to "Enjoy Nature" — no, now it's all, "Stay away from the terrifying outdoors, where you will die from the flash floods and the lightning and the tornadoes and the tsunamis and the flying squid." And shilling weather radios so people can stay inside and entertain themselves by scaring the dog.
"EEEEEEE!"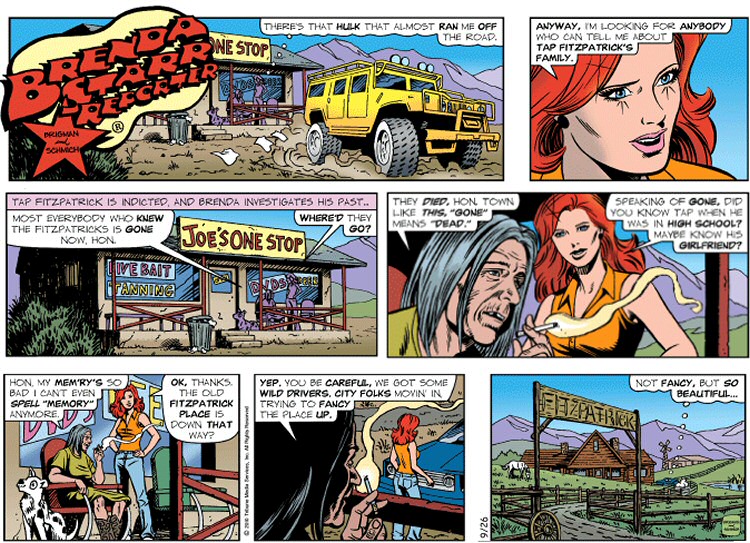 No sound effects here but the pitapat of my fanboy heart. Brenda Starr is looking into the Pokeville hometown background of Tap Fitzpatrick, the flamboyant DA falsely (she thinks) accused of the murder of TV host Felicity Fox (no, not her). Pokeville has its secrets, at least one of whom is driving that Hummer that nearly ran over Brenda's Mustang. But most of the town's action is at Joe's One Stop, Pokeville's Jack Ass Acres, where you can get anything you want from the resident gap-toothed androgyne and owner of Bullseye the Dog — except information.
O Brenda Starr, how do I love thee?
1. Crisp, hard-edged modern drawing by artist June Brigman — retaining the trademark eye-sparkles of Dale Messick's loopy-girly style.
2. People smoke, yet the strip is not about their smoking (see, Curtis?).
3. Intelligent background jokes — "Live Bait! Tanning!"
4. Timely material — Hummers, Mustangs, bloggers, prescription drug abuse, the decline of print journalism.
5. Author Mary Schmich, renaissance woman and (dare I hope?) future hyphenated spouse of former Baltimore Mayor Kurt Schmoke.
6. Brenda Starr kicks ass!
Pluggers, 9/26/10

The essence of Pluggers. Except for the color, which seems way too upscale, and anyway should have leached out decades ago.
---
— Uncle Lumpy