Post Content
Family Circus, 9/4/10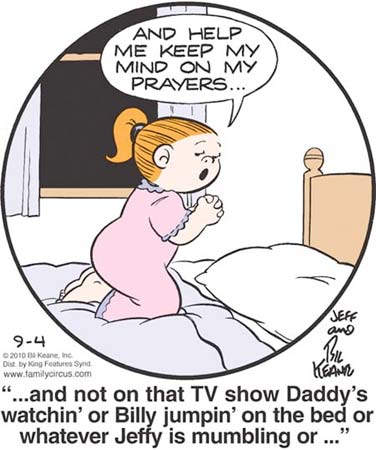 There's certainly a little something weirdly circular about Dolly praying for the power to pray more intently, but perhaps we ought to take this scene at face value and respect the poor girl's fervent desire to keep her mind focused on the divine in the midst of a chaotic living situation. Her casual description of her middle brother wandering about the house muttering incomprehensible but threatening nonsense to himself is particularly harrowing.
Crock, 9/4/10

Though I once praised the poor damned souls who do the coloring for the comics, they still must be called to account when they err. Why must we buy into the beauty myth that only blondes are sexy? The Crock artist appreciates an attractive brunette, obviously, having gong to some pains to ink in the hair of Grossie's sexy friend (since this is Crock, she's probably just named "Sexy"). Why do you supply a blondeish nimbus that was not part of the original artistic vision, O Colorist?
B.C., 9/4/10

Ha ha, she made a real impression on him … with her enormous ass! Possibly by sitting on him! And her name is "Fanny!" And they're, uh, ants, and probably when an ant has a distended rear thorax section like that it means something, but, uh, bugs gross me out so I don't want to look it up. Probably it relates to breeding or something though, or feeding the young. Which casts this strip into a completely different and more disgusting light. Jeez, I think I liked B.C. better when it was just telling me I was going to hell.