Post Content
Dennis the Menace, 10/22/10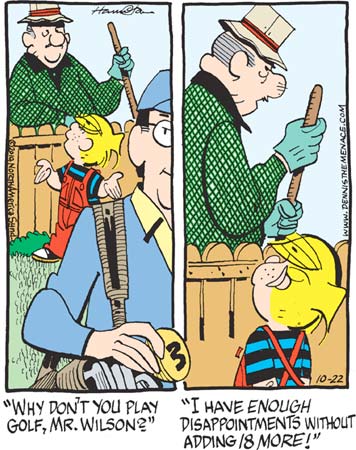 Ha ha! It's funny because Mr. Wilson's life has been an endless series of disappointments, which is why he's so angry all the time!
Mark Trail, 10/22/10

Oh, come on, Mark, you get a chance to punch an animal-hating baddie in the face two or three times a year. Don't expect us to play along like this isn't a thing that you do, constantly. ("Dear Punching Magazine: I never thought this would happen to me…")
Pluggers, 10/22/10
I don't see any DTV converter box anywhere in this panel, so I'm guessing that our poor plugger has been fiddling with the various knobs on that ol' TV for about 14 months now. Not constantly, obviously; but every once in a while, when he's feeling particularly bored and lonely, he turns on the old set, sees there's still nothing but snow on the screen, and jiggers the buttons, thinking this time, maybe this time he'll get his stories back. And the game. I just want to watch the game in peace, lord, is that so much to ask? Maybe it's the horizontal. Did I try playing with the horizontal last time? Maybe I didn't, and this time it'll work.