Post Content
Barney Google and Snuffy Smith, 2/19/12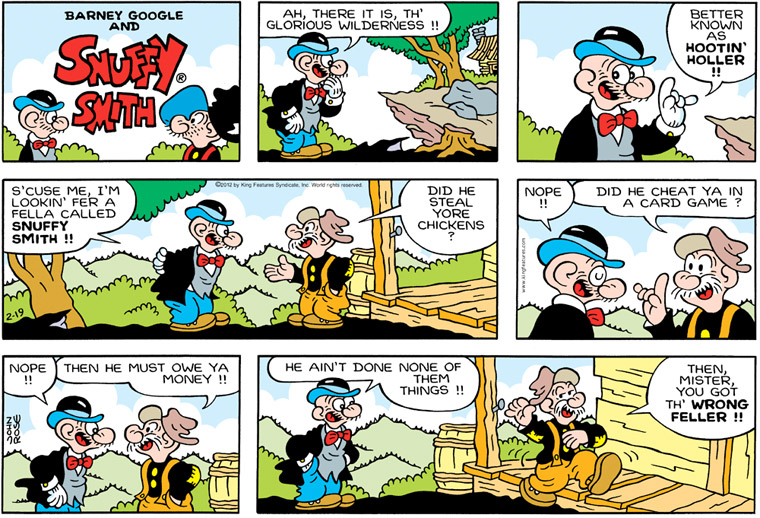 You know how I pedantically insist on calling this strip "Barney Google and Snuffy Smith," even though original main character Barney Google hasn't appeared in it in years, having long ago helped it transition from "Roaring Twenties City Lowlife Humor" to "Depression-Era Hillbilly Humor"? Well, hold onto your hats because Barney's back, baby. He isn't named here but you can tell by his goo-goo-googly eyes (and a quick Google Image search).
I was thinking that Barney's visit to Hootin' Holler would be a happy occasion full of mischief and hijinks, but then it occurred to me: how bad must things be in the flatlands to get a fancy fellow like Barney to flee up to this impoverished rathole? He's probably just a few hours ahead of the roving cannibal gangs. And the rest of Sunday's comics weren't that much cheerier!
Panel from Slylock Fox, 2/19/12

Like, things are getting pretty grim down at the trailer park! With the nearby forest having been stripped bare (you can see one of the sad few remaining trees in the background), the local mobile home denizens have resorted to burning their own furniture for heat. Or, in Reeky's case, other people's furniture.
Six Chix, 2/19/12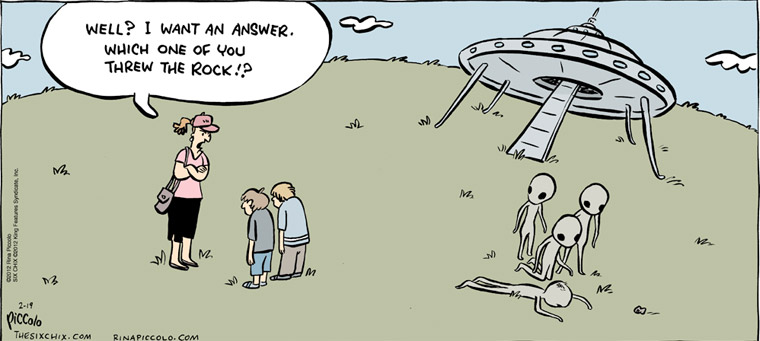 Over in Six Chix, a child's penchant for thoughtless violence has angered a species of advanced aliens with the capability of interstellar flight. Best-case scenario: Our conquest and enslavement. Worst-case scenario: Earth vaporized by a powerful space-based death-ray.
Curtis, 2/19/12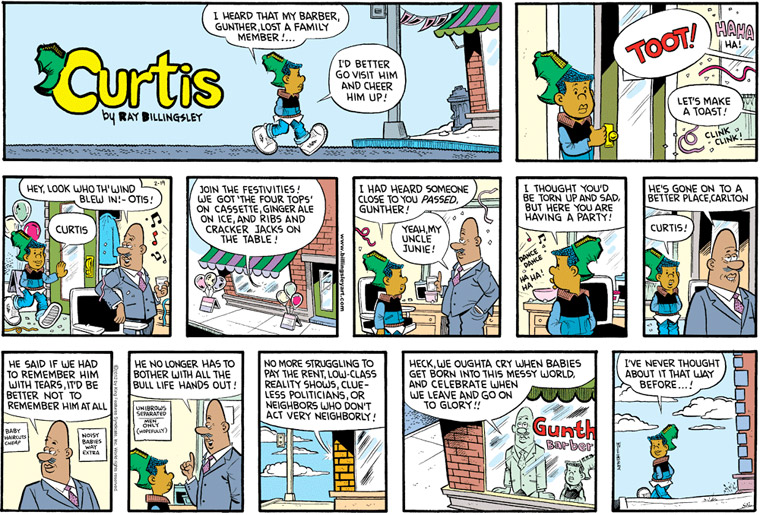 And in Curtis, we learn that Gunther's spacey bonhomie masks a deep and unshakeable longing for death.