Post Content
Heathcliff, 10/25/13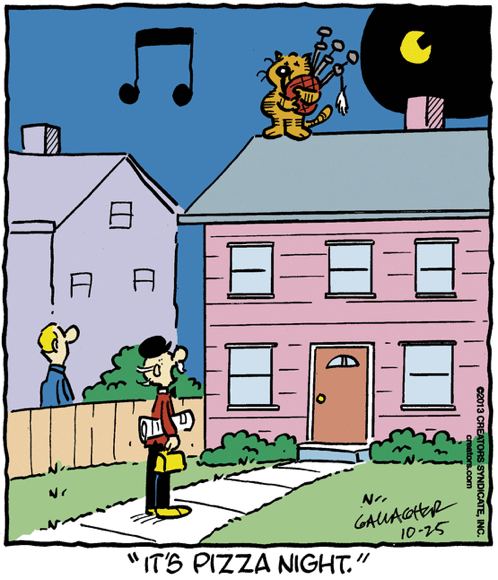 It's pizza night, everyone! And that's why Heathcliff is on the roof playing the bagpipes. Sure, there's literally no correlation between bagpiping and pizza, but Heathcliff doesn't care about your square cultural consensus about the correspondence between the signifier and the signified any more than he cares about local noise ordinances. Heathcliff's going to stand on top of your God-damned roof playing the God-damned bagpipes and then eat some God-damned pizza, because he's God-damned Heathcliff. It doesn't have to make sense. You know it, he knows it, so why you don't you just stand there and listen to "Amazing Grace" or "Scotland the Brave" or whatever until he decides he's done, hmm?
(By the way, this is another Heathcliff that works very well with the caption replaced by "I'm thinking of unfriending him on Facebook.")
Pluggers, 10/25/13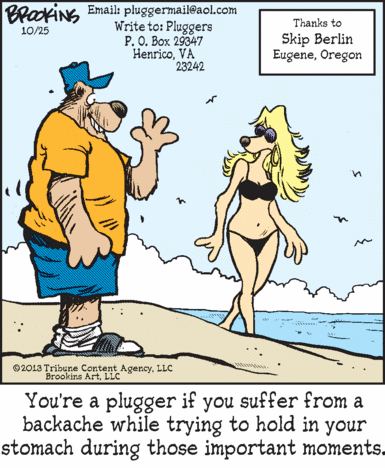 After going to great lengths to try to convince us that pluggers are wholly incapable of sexual arousal, the strip has finally admitted that, yes, pluggers can experience faint stirrings of lust, but only if they work so hard at it that they actually experience physical pain.
Lockhorns, 10/25/13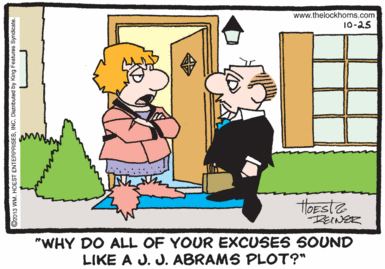 LOOK A CONTEMPORARY CULTURAL REFERENCE THE LOCKHORNS IS DEFINITELY NOT A COLLECTION OF THOUSANDS OF CARTOONS ALL DRAWN IN A SWEATSHOP IN 1965 AND DOLED OUT TO NEWSPAPERS ONE AT A TIME OVER THE DECADES PLEASE CONTINUE READING THANK YOU