Post Content
Barney Google and Snuffy Smith, 10/13/13 (panels)

What is the relationship between art and reality — among the dreamer, the dream, and the dreamed? Magritte gives us one viewpoint, Snuffy Smith another.
Snuffy reveals how the artist not only creates a work but selects its audience, source of his reputation and claims to authenticity. He is his own best example: once a mere usurper in Barney Google's strip, he now asserts his own membership in the very elites who read his Sunday "throwaway panels" in their expansive flatlander newspapers or on high-falutin' electronic devices. With a delicate hanky-dab at his nose, he rises — refined and redefined, "Snuffy" no more!
Judge Parker, 10/13/13 (panel)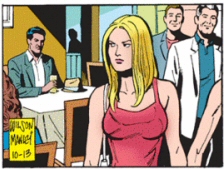 Boy, this lady sure hates hats, doesn't she?
Beetle Bailey, 10/13/13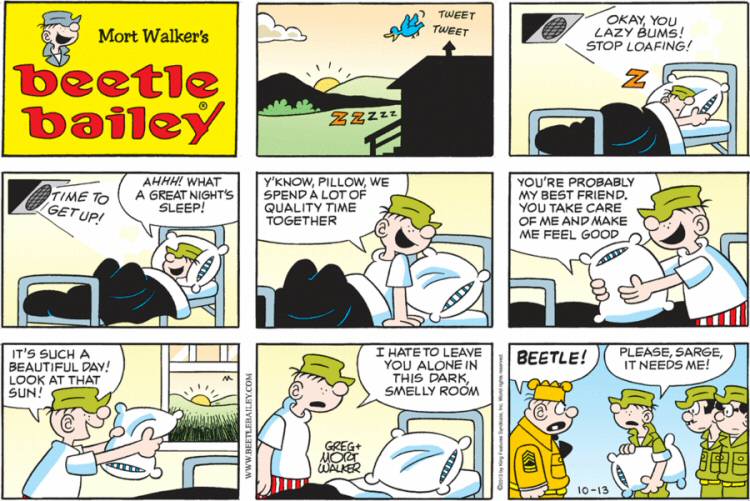 You know, there are plenty of attractive and willing human partners around, like Sarge's Sgt. Louise Lugg, Beetle's Miss Buxley, and Killer's groupies, but it's all surrogates with these guys: robots, trees, and again with Beetle's beloved pillow here. I'm just saying that's kind of messed up.
Mary Worth, 10/13/13 (panel)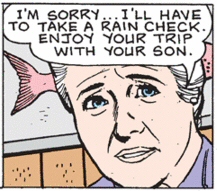 We had to wait a long time to see Mary's head impaled on a fish, but I think we can all agree it was worth it.
Mutts, 10/13/13

Mooch ignores the comics' prohibition of "FLICK" to imply that Earl has sex with his own parasites.
---
— Uncle Lumpy