Post Content
Crankshaft, 5/16/14

So Crankshaft got a smartphone this week, by the way! I would have settled for some smartphone-themed puns, but I will very much accept Crankshaft being a snarling dick to his best friend, for no reason other than to cover up his own feelings of inadequacies and helplessness, and there's not even a hint of a joke or wordplay or anything like that, just the main character of this strip salving his own emotional wounds by making everyone around him feel miserable and shitty. Crankshaft, everybody! The "fun" Funkyverse strip!
Heathcliff, 5/16/14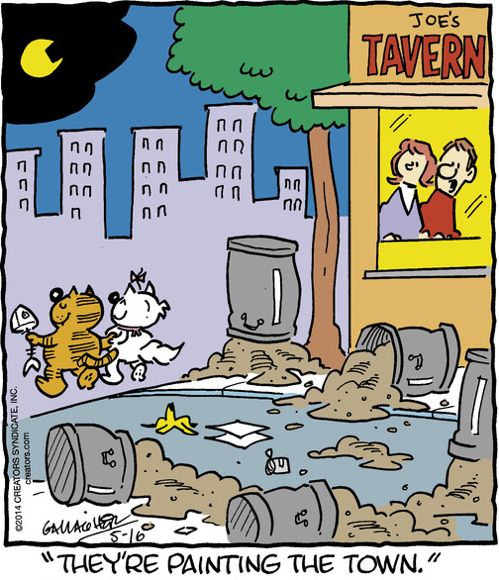 Why don't the inhabitants of Heathcliff's leafy suburb ever use garbage bags? They just empty all their waste directly into metal cans, where it putrefies into a more or less homogeneous brown goo. Now Heathcliff and Sonia are painting the town, if by "painting the town" you mean "smearing the streets of the town with the lumpy brown goo that is apparently the end product of rotting garbage."
Apartment 3-G, 5/16/14

At last, thought Jack, my plan has come to fruition. He had known it wouldn't be easy to find a suitable partner and then convince her to willingly join him inside his meticulously hand-crafted two-person horse costume for some good old-fashioned equine cosplay. But Jack Riley was nothing if not a patient man.