Post Content
Beetle Bailey, 7/24/14

Soldiers are entitled to "… confidential, non-medical problem-solving counseling … provided by licensed, certified counselors on demand. Up to twelve (12) counseling sessions may be provided for each issue, at no cost to the Soldier or Family member."
I suppose Dr. Bonkus can bill Amos and Martha Halftrack because they've needed hundreds of hours of counseling to fan this spark of romance from the ashes of their loveless union? Or maybe Bonkus bills them off-books for the use of his office because this is the only place they can get it on?
Alternatively: old-people sex, ew.
Funky Winkerbean, 7/24/14

After months of searching, Holly has at last located Starbuck Jones #115. The find was faked, of course – Comic John bought the comic in San Diego and had his pal plant it where Holly would find it, just as people have patronized and condescended to her at every step of her little odyssey.
No matter, though — Holly has found a way to bond with her son Cory by completing his collection while he serves in Afghanistan, drawing his cherished project to a close.
And this being Funky Winkerbean, somewhere in the hills of the Panjiwayi District, a sniper adjusts his windage. Somebody is going to get an authentic experience out of all this.
Pluggers, 7/24/14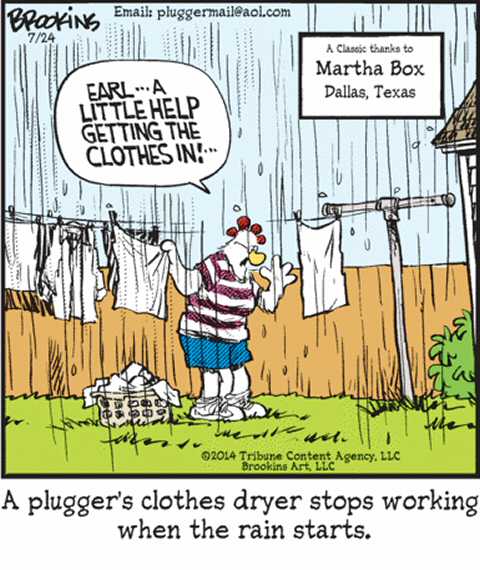 In fairness, though, that's when the washer starts.
Luann, 7/24/14

In its 30th year, Luann has finally taken the plunge and graduated its cast from high school. Insufferable do-gooder Delta is off to Howard University; second-string ethnic paragon Rosa Aragones spurned Yale for a job mucking out bedpans at her uncle's clinic in "Peru" with dweeb Gunther in tow; and Bernice, Tiffany, and Quill will attend local "Moony Uni." So, now, too will Luann herself, on the basis of a previously unseen gift for spatial reasoning, which fortunately requires no knowledge or effort to apply.
Our Moral: don't waste your time learning and doing stuff — just wait for somebody to reward you for qualities you already possess. Our Motto: Inertia!

What, no chance for a Quigley here?
---
— Uncle Lumpy