Post Content
Herb and Jamaal, 10/31/14

It's true: feelings can be tricky! Like, for instance, you may feel close enough with your best friend to just ask him about his current emotional state with a new love interest: a pretty intimate question! And yet even so, you might be embarrassed to admit that you like to weave elaborate water-metaphors about feelings, and so instead of sharing them with him and risking embarrassment, you just lean on the counter and smile to yourself, imagining those emotional waves crashing over your head. Don't tell him what you're thinking. He can never know.
Blondie, 10/31/14

I guess what bothers me about this is that Dagwood thinks he needs to add a jack o' lantern to this costume to make it Halloweeny. It's a costume. Costumes are inherently Halloweeny. Dressing in costume is pretty much what Halloween is about these days. You don't need to gussy it up with Halloween iconography. Just dress up as a sexy slice of pizza and get on with it, already.
Heathcliff, 10/31/14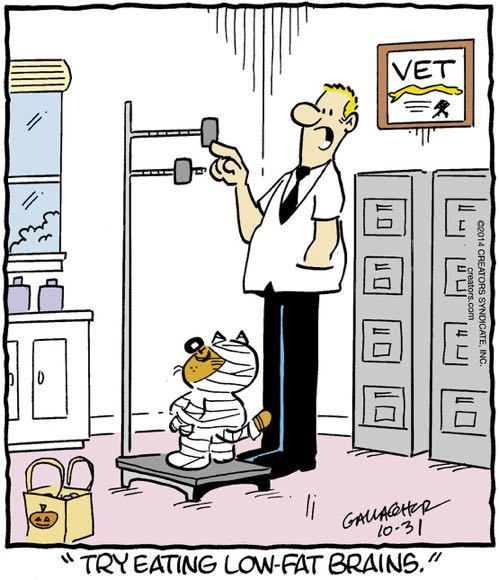 GOD DAMN IT
MUMMIES DON'T EAT BRAINS
YOU'RE THINKING OF ZOMBIES
YES THEY'RE BOTH REANIMATED CORPSES BUT THEIR MYTHOLOGY AND CULTURAL HISTORIES ARE COMPLETELY DIFFERENT
MUMMIES PUT CURSES ON YOU AND … UH … SHAMBLE TOWARDS YOU MENACINGLY
AND I THINK THAT'S IT?
ALSO THEIR ROTTING FLESH IS COVERED WITH BANDAGES
DEFINITELY NOT THE SAME AS ZOMBIES, IS MY POINT
GET IT TOGETHER, HEATHCLIFF