Post Content
Apartment 3-G, 10/30/14

Oh, goody, you know I love an Apartment 3-G flashback! I'm guessing that this giant 4 x 6 photo at which Margo is lovingly gazing (she keeps it in her purse, for convenient loving gazing action) is neither of long-ago love FBI Pete (even though she went ahead and had a captioned beach-frolicking photo of the two of them framed for some reason) nor of Trey, the sexy bescarfèd architect who redesigned the Mills Gallery for free in a doomed attempt to win Margo's heart. No, I think we all know that the closest Margo ever came to true love was Mills Gallery founder Eric Mills, who knew that Margo valued power over mewling, pathetic artists more than a wedding ring. Unfortunately, the two of them could never be together because he was only sexually attracted to gas grills. Ha ha, just kidding! He actually died in an avalanche trying to sneak the Panchen Lama out of Tibet, which I swear I'm not making up.
Mary Worth, 10/30/14

"Ladies, plural? Ha ha ha young man, no, you don't understand, only one of us needs to be confined to this caring, fun-filled elder-containment facility. I myself have fantastic vision and a very important job as manager of a condominium complex and can't possibly–" "ALRIGHT JOE GET THE STRAIGHTJACKET AND THE TASER, WE'VE GOT A LIVE ONE"
Rex Morgan, M.D., 10/30/14

Good lord, Sarah, it's like you don't even know the first rule of working with mobsters, which, obviously, is "don't be a snitch."
Pluggers, 10/30/14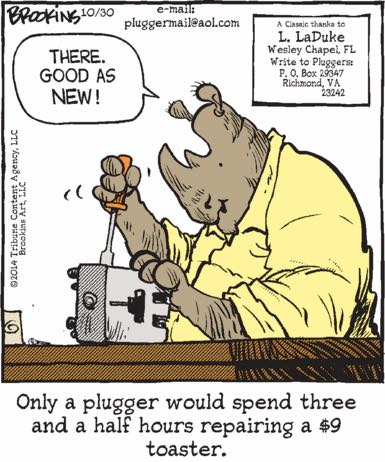 Pluggers, sadly, know exactly how much their time is worth.