Post Content
Spider-Man, 11/20/14

Oh, man, sequels! I love a sequel! This storyline just launching in Spider-Man is itself a sequel to the storyline about filming the first Marvella that ran in this strip back in 2006. Mr. Smiley, who had a slightly less dumb beard back then, managed to make Marvella profitable with innovative filmmaking techniques like just filming fight scenes in one take with no stunt supervision, so look for more of that this time around! That storyline also ended with our hero being knocked unconscious by a butler wearing a silly hat, so I'm really looking forward to this.
Apartment 3-G, 11/20/14

How much would I pay to see Margo give the wedding planner version of the "like tears in rain" speech from Blade Runner? "I've … seen things you people wouldn't believe. Drunken bridesmaids weeping on the shoulder of Orion. Centerpieces on fire, glittering in the darkness in the Main Ballroom at the Ramada Inn and Conference Center in White Plains. All those moments will be lost in time, like tears, in rain, on your wedding day. Time … to see if the bartenders have any champagne left over."
Dennis the Menace, 11/20/14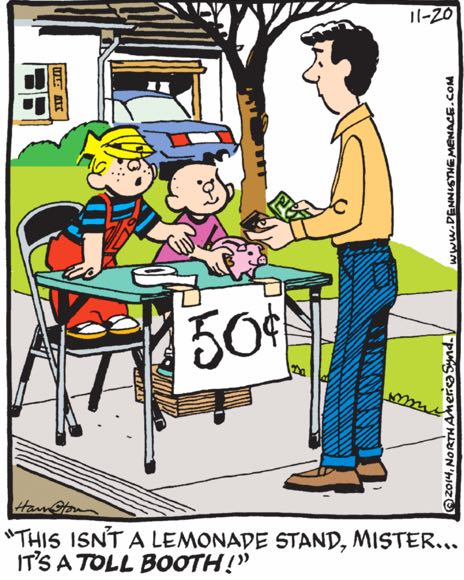 Dennis's neighborhood has somehow devolved into Somalia-style anarchy, and he and Joey are trying to get ahead in the warlord game by setting up sidewalk checkpoints. Pretty menacing!