Post Content
Pluggers, 2/21/15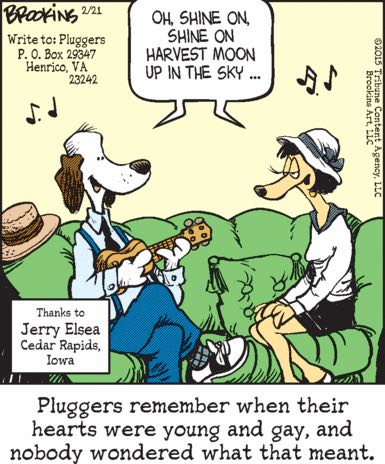 Pluggers remember the days before certain semantic shifts, when several common words conveyed a different set of meanings to most listeners than they convey today! They also remember when at least the outward performance of heterosexuality was mandatory, and thus largely unquestioned. Admittedly, it was easier to avoid such questions back when a hot date consisted of playing a ukelele and sitting two feet apart.
Hi and Lois, 2/21/15

Hi and Lois's weariness with the entertainment-industrial complex aside, "the Hammies" is a good name for an awards show, but it should be a show where they give awards to actual ham. Like, juiciest ham, best Easter ham, ham of the year, what have you. I would very much watch that awards show.
Apartment 3-G, 2/21/15

"Why does this keep happening? Why do I keep half-recognizing people? It's like I live in a terrifying nightmarescape where everyone looks more or less the same in general but the actual details of each individual's face shift and ooze from moment to moment!"