Post Content
Momma, 2/25/15

Momma usually wrings laughs from the wildly imbalanced nature of the relationship between Momma and her adult children: she wants them closer, despite the fact that they're all kind of terrible, and she herself is terrible to them in various ways, and they pull away. If that doesn't sound funny to you, then congrats on being a decent human being, but to the extent that the conceit works, it works because Momma is cartoonishly terrible and not at all self-reflective. That's why today's panel three, in which Momma watches her fleeing son and poignantly reflects on her own unbearableness, is definitely one of the more depressing things the newspaper comics have to offer today.
The Lockhorns, 2/25/15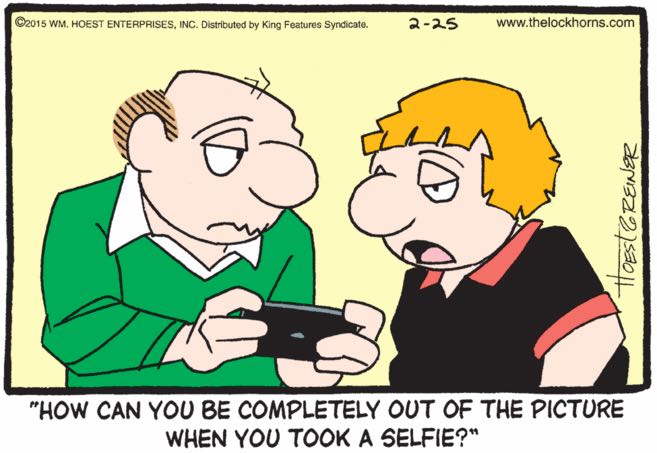 The self-loathing both halves of the Lockhorns feel is an integral part of this feature's shtick, of course. Leroy wants so badly to disappear into comforting nothingness that he can't even bring himself to photograph his own face.
Mark Trail, 2/25/15

You know who doesn't go through a bunch of agonized self-reflection, ever? Wolves! Wolves feel really quite good about themselves and their totally rad ability to form an awesome, bad-ass pack and just straight up eat a whole moose. Old Ripper becomes the first Mark Trail animal to get a name other than "Lucky" that I can remember, though like the old mother moose, Ripper is old, because you have to respect the strip's animal-identification traditions.