Post Content
Mary Worth, 2/24/15

Ha ha, whoops, when I said that Amy couldn't possibly also be getting married because that would be "too obvious," I forgot that "too obvious" is Mary Worth's bread and butter. It's not entirely clear if Amy really is engaged to Dave, or if she's just letting her mother think so in order to show how ridiculous it is to rush into marriage so quickly, but one thing's for certain: Gordon does have a new sitter, and it's that little handheld gadget he's blissfully staring into in panel one! Gordon's love for the soothing television screen is well-known, and now he has one he can fit into his pocket wherever he goes! He doesn't need Hanna anymore! He doesn't need anybody.
Spider-Man, 2/24/15

This whole Spidey-fight (the proportional fight … of a spider) has pretty blissfuly ignored the laws of physics so far, but this triumphant conclusion, in which Spider-Man saves their lives by having them plummet not into concrete but into a foot of water in a concrete-lined fountain, really takes the cake. Mysterio shooting him in the chest at point-blank range would be a fitting way to end this, although it would raise the question of why he didn't just do that to begin with.
Six Chix, 2/24/15

Hey, sexually self-actualized she-bear, I'm … not sure this is how population explosions work? Look, if you want to shun monogamy and play the field, you be you, just don't try to come up with some transparently dumb evo-psych sociobiological justification for it.
Dennis the Menace, 2/24/15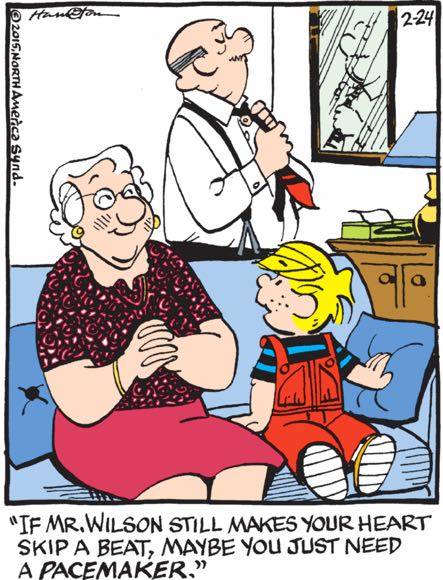 Dennis, unable to fully grasp that other people can truly have feelings or an inner life, sees them merely as walking meat puppets whose parts are in occasional need of repair. Menacing factor: high.