Post Content
Crock, 6/16/15

It's true: if you'd been wandering in the desert since 2005, you might assume that e-mail was still the most important thing that you'd need to catch up on. Trooper Benson doesn't know the extent to which texting has supplanted many other forms of communication, and he hasn't even heard of Facebook Messenger, Twitter DMs, WeChat, WhatsApp, and any of the other bewildering things that have sprung up in the last decade. Sure, he's a poor devil, all right — but maybe, in his own way, he's the lucky one.
Family Circus, 6/16/15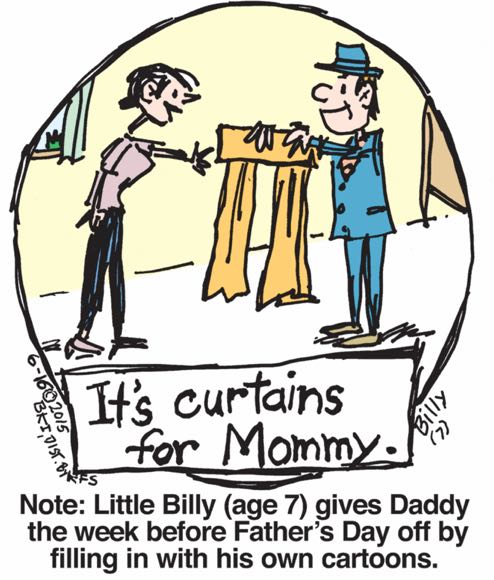 Billy (7)'s reign of violent substitute cartooning terror continues! Today, Mommy Keane is about to be murdered by a nattily dressed old-timey gangster, who appears to be planning to use curtains as a sort of improvised garrote.
Pluggers, 6/16/15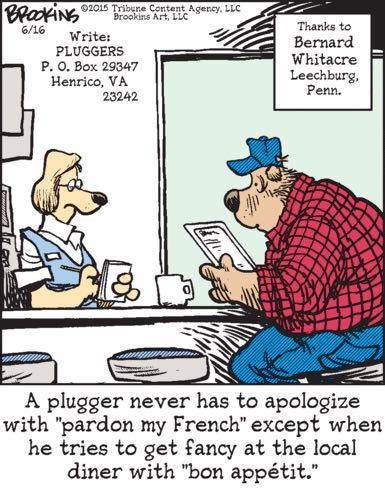 The expressions on the faces of our characters here — disgust and contempt on the dog-lady waitress, horror and shame on the bear-man customer — are exquisite and evocative. "No! It was a joke. A joke! I don't even know what it means, I swear. I hate France! Don't — don't make me go live in the big city, I beg of you!"