Post Content
Heathcliff, 6/15/15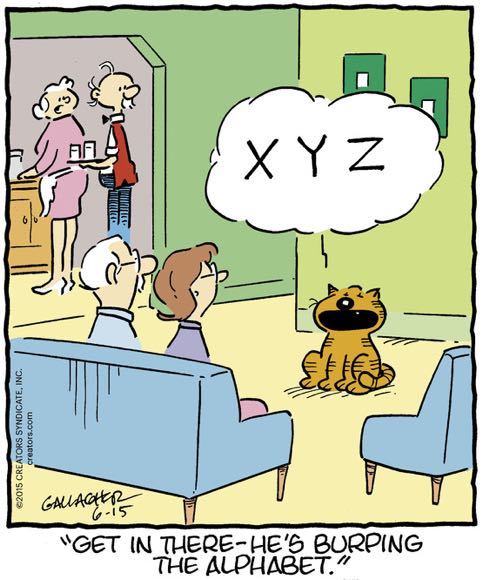 If there's one thing that distinguishes Heathcliff from another, more famous/relentlessly marketed orange comics cat, it's his inability to produce recognizable language, even in thought balloon form. We as readers are not privy to whatever thoughts are going through his head; and to communicate with the fellow denizens of the Heathcliffverse, he must resort to crude, one-word messages written on helmets or flags. But now, at long last, Heathcliff's latest project is coming to fruition: he's mastered human speech, repurposing various parts of his digestive system to approximate the sounds. He's already gotten to the end of the alphabet, so Heathcliff's Owner-Grandpa's attempt to put a stop to the madness will come far too late. After "Z", Heathcliff will start issuing orders, and they will be terrifying.
The Lockhorns, 6/15/15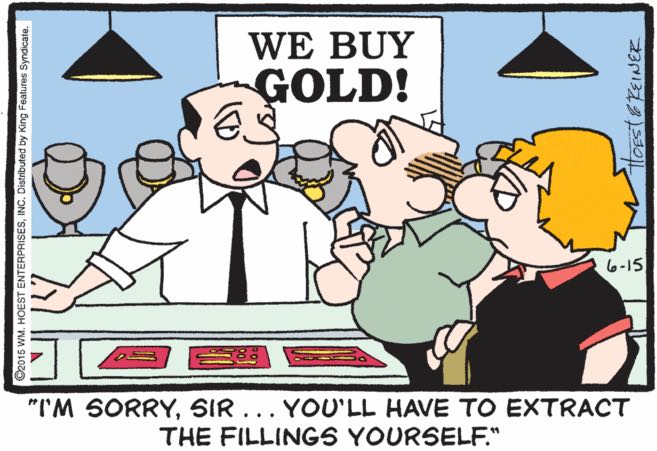 Congratulations, The Lockhorns, for finally producing a panel that can surpass Rhino-Man Hocks His TV for sheer horrifying depression! I'm kind of sorry we aren't going to get to actually see Leroy awkwardly trying to remove his own fillings with a pair of pliers in this seedy cash-for-gold outlet's parking lot, mostly because I'd like to watch Loretta's facial expression of ennui mingled with contempt remain unchanged throughout all the screaming and the blood.
Family Circus, 6/15/15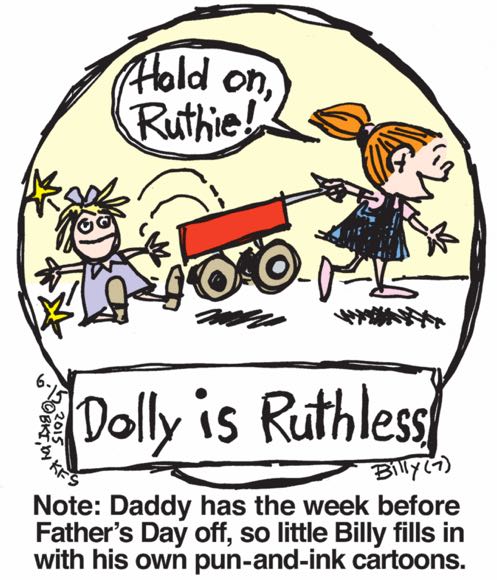 Dolly forges ahead to some unknown destination, leaving Ruthie behind, lying on the floor in visible agony from her tumble from the wagon. Ruthless indeed, and only Billy (7) can see the true cold-hearted sociopath beneath his sister's treacle-sweet exterior.
Rex Morgan, M.D., 6/15/15

Today's Rex Morgan, M.D., doesn't confirm the theory that "Sarah" is a 42-year-old little person pretending to be a child for inscrutable reasons of her own, with Kelly in on the game but eager to humiliate her at any opportunity, but it doesn't exactly rule it out, either.
Mark Trail, 6/15/15

OH NO
THE DAY IS HERE
THE DAY FORETOLD IN PROPHECY
THE DAY THE CEPHALAPODS EMERGE FROM THE SEA TO DESTROY US
HUG YOUR LOVED ONES TIGHT AND PRAY FOR A SWIFT AND MERCIFUL DEATH