Post Content
Judge Parker, 6/25/15

Well, we all know what happens when a Spencer-Driver negotiates with a rotund man daubing his head with a cloth: the Spencer-Driver gets what they want for a ludicrously low price! Personally, I'm a little sad that anyone who goes by the name of "King Speedy" isn't in the meth-dealing business. Honestly, I'm not 100% convinced he isn't, which, assuming everyone is convinced everyone else is speaking in code, could result in some hilarious complications by the end of this transaction.
Apartment 3-G, 6/25/15

I know I haven't really been keeping you up to date on this, but … Lu Ann has abruptly announced she's quitting her job and moving away? I don't know if this is just another A3G vague plot that will go nowhere or this strip starting to unravel itself, but it's pretty weird that Lu Ann is now talking about selling "the apartment," since she shares and co-owns the apartment with, like, two other people. Maybe she'll just be selling her bedroom? I look forward to seeing realtors coming through and pointing out the lovely architectural features of the single room, and glossing over the two angry women standing there staring with crossed arms. This is Manhattan, so probably she'll barely get a million dollars for it.
Dennis the Menace, 6/25/15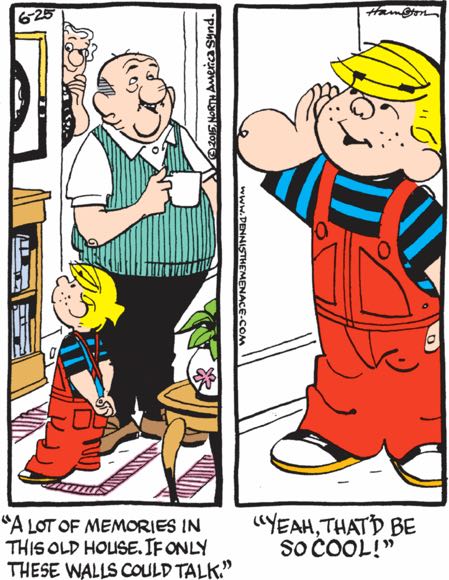 Not sure if Dennis is excited about learning decades' worth of Wilson secrets or if he just likes the idea of a demon house that can speak via horrifying, unnatural wall-mouths, but either way it's very unsettling, A+ menacing.