Post Content
Funky Winkerbean, 6/26/15

Oh, look, it's "jack-and-jill (v)", another made-up phrase that nobody will ever use from the strip that brought you "Lewis-and-Clarking," "Nordic," and "solo car date!" This one really ups the ante, in the sense that a character is summoned forth from the narrative ether and brought on-panel to say it after having terribly injured himself.
Crock, 6/26/15

Attention cartoonists everywhere: the era when a sentence could be deemed a punchline just because it included the phrase "cell phone" was extremely brief and ended more than a decade ago! Please make a note of it.
Heathcliff, 6/26/15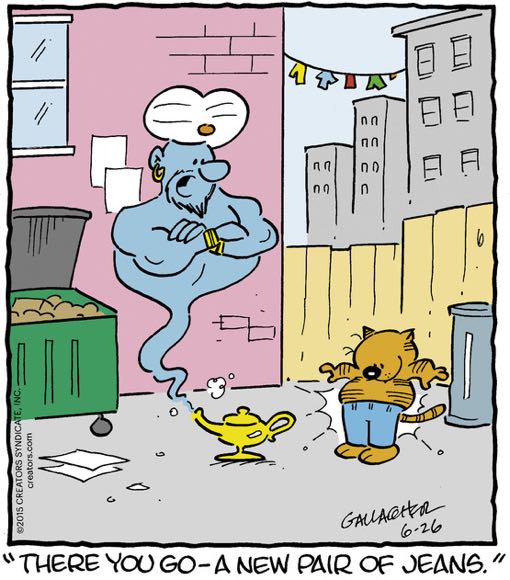 It took me an embarrassingly long time to realize this isn't just garden-variety Heathcliff irritating whimsy, but a terrible play on words: the genie created jeans, get it? Get it? GET IT??? Based on the numb expression on the genie's face, he's as disgusted by it as I am.
Marvin, 6/26/15

"Yes, that's right lady," thinks Marvin's mom slyly in panel three, "my husband is completely unfuckable."
Crankshaft, 6/26/15

YES
CRANKSHAFT AND HIS BUDDIES ARE GOING TO BE ARRESTED FOR POLITICAL CRIMES AND CONVICTED IN A PUBLIC SHOW TRIAL
THIS IS WHAT I'VE BEEN WAITING FOR MY WHOLE LIIIIIFE