Post Content
Family Circus, 8/25/15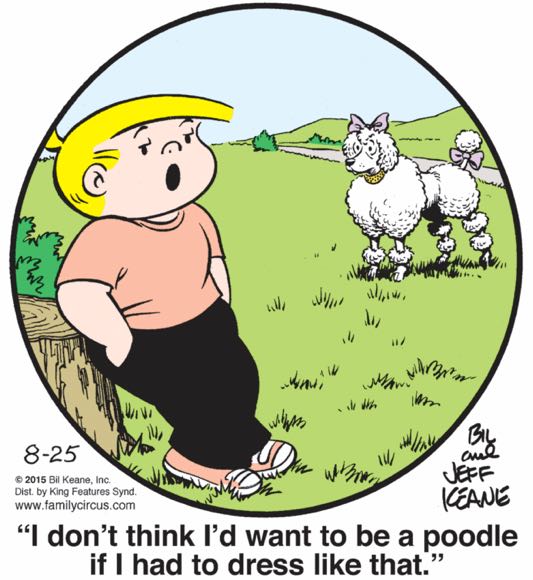 I absolutely love how angry that poodle looks in this panel. "Oh, you think it's funny how I look, you smug stump-leaning little shit? You think it's a game? Is my grooming style incompatible with your narrow view of masculinity? You think I don't still have razor sharp teeth?" Shit is about to get very real for our Billy.
Mark Trail, 8/25/15

Yes, that does sound like a logical explanation: a shipment of fake radioactive rods, glowing with their own eerie, mysterious light, which are an extremely popular gag gift worldwide! Nothing loosens up a birthday party or Christmas morning like the moment when someone unwraps their "radioactive" "extremely dangerous" present and shouts with delight, "Oh my God, what is this? You've killed us all!" These novelty items are in such high demand that they're flown around the world via sea planes — the market can't wait for slow container ships! Anyway, Mark, don't worry your pretty little head about any high-tech "tests" for radiation, I'm sure everything is fine, just fine.
Wizard of Id, 8/25/15

Whoa, like, what if, like, we need both the dark and the light, working against each other, to create the huge, amazing universe we all live in, man? Anyway, long story short, this comic portrays the process by which glow-in-the-dark dorm posters and van decals were created in the 1970s and '80s.
Marvin, 8/25/15

Oh, don't worry, Bitsy: Marvin isn't going to stop shitting himself just because he's got sand in his diaper.
Marvin's never going to stop shitting himself