Post Content
Funky Winkerbean, 9/2/15

Ha ha, remember Coach Stropp, who used to cruelly mock Les's athletic ineptitude, back when this strip was funny? Well, he's dead now.
Hagar the Horrible, 9/2/15

Ha ha, a Viking always pays his final respects to his enemy. After he's dead! Like that guy is about to be. Hagar's sword didn't slice through the flesh of his face, but the blow to his head was probably hard enough that his brain is already starting to hemorrhage.
Heathcliff, 9/2/15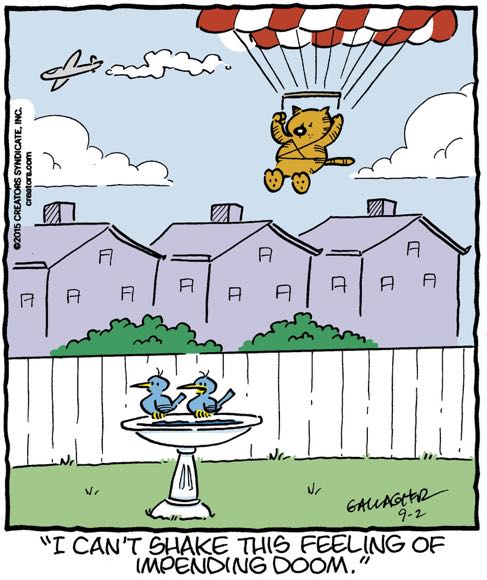 Ha ha, those birds have a feeling of impending doom! Probably because Heathcliff is about to kill and eat them, hopefully in that order.
Mary Worth, 9/2/15

Well, at least nobody's dead or about to die in Mary Worth, as Toby prepares to stride purposefully out into single life wearing a purple tracksuit and electric blue jacket, and … wait, what's that? Over on the bookshelf?

OH MY GOD IT'S THE ASHES OF A DEAD DOG, PROBABLY! Fido has never appeared as a beloved Cameron-pet in the thirteen years I've been reading this strip; possibly Ian owned the pup before he even met Toby. I sincerely hope tomorrow we see Ian lying in bed, weeping and reading Toby's note for the fourth time, clutching this urn of dog cremains like his favorite teddy bear. "You understood me, Fido," he sobs. "You're the only one who ever understood me."