Post Content
Rex Morgan, M.D., 1/27/16

June and Heather have spent the past several days discussing the fact that Heather loves June's new baby and wants to have a baby but is married to a man vanishing into Alzheimer's and thus will never have a baby and is very sad about it. But remember, Heather isn't just a sad Scottish ex-nanny with a senile husband; she's also a criminal conspirator who has masterminded schemes of corporate skullduggery not once but twice. She is going to feel zero moral qualms about kidnapping that baby the moment June leaves the room, is what I'm saying.
Momma, 1/27/16

This is a joke about … STDs, maybe? "Bad colds" being code for "herpes"? That's the joke? Or maybe the joke is "Francis thinks it's OK to say 'My new girlfriend is always kissing me! Kiss, kiss, kiss, kiss!' to his mother, which isn't a 'joke' so much as a 'nightmare from which we will never wake.'"
Dennis the Menace, 1/27/16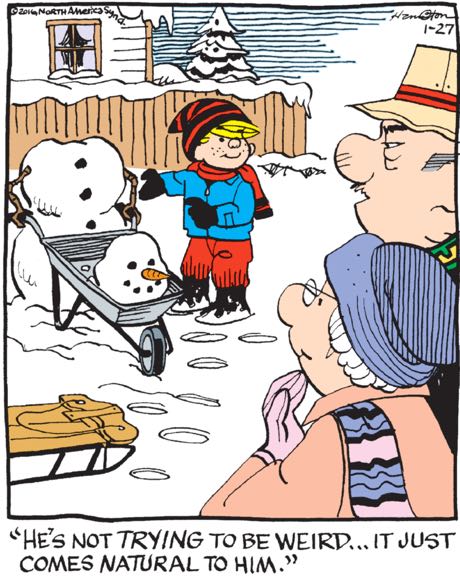 There are few things more unsettlingly menacing than spending hours each night poring over old Calvin and Hobbes strips and then passing off the behavior you're carefully mimicking as "naturally weird."
Hi and Lois, 1/27/16

See, you thought the joke of this cartoon was going to be that these little kids unthinkingly reminded the old man that he would be dead soon, but in fact the joke is that they've reminded him of the many terrible, terrible things he's seen and done. It's nice when a long-standing feature like Hi and Lois can keep you guessing!