Post Content
Pluggers, 7/14/16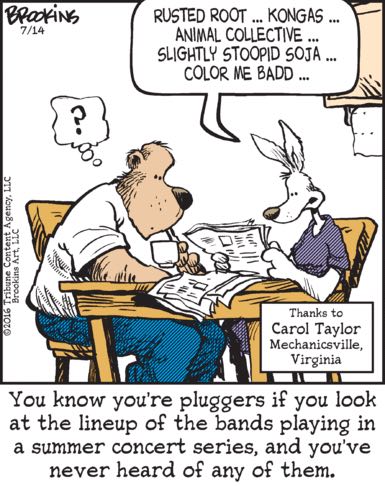 I'll say this for today's Pluggers: it's managed, without having heard of any of the bands, to put together an actually realistic summer concert series lineup, in the sense that it runs the gamut from relatively popular, relatively current acts (Animal Collective) through jam bands that had a minor mainstream breakthrough years ago but have been touring the festival circuit more or less nonstop both before and since (Rusted Root) to bands that were popular in the early '90s and subsequently broke up but then a subset of the original members gained legal control of the band's name and now are cashing in with a bunch of new people (Color Me Badd). We've rounded out the list with two separate bands who were apparently mistaken for one (Slightly Stoopid and SOJA, who are touring together this summer) and, apparently, just to stick it to know-it-alls like me, the truly obscure "Kongas," which as near as I can tell was the name under which Marc Cerrone, an "Italofrench disco drummer, composer, record producer and creator of major concert shows," released a couple of albums in the late '70s. I guess it's probably more likely that this is a mistake for Kongos, a band that's in that first category with Animal Collective, but I want to believe that we're talking Italofrench disco drummer here.
Mary Worth, 7/14/16

Oh man, it looks like Tommy's upcoming opioid addiction's going to arise from a bad interaction between a lower back injury … and broken heart. I guess this is why you shouldn't start dating someone before you start growing your hair back out. The relationship begins under false pretenses. They won't know the real you.
Family Circus, 7/14/16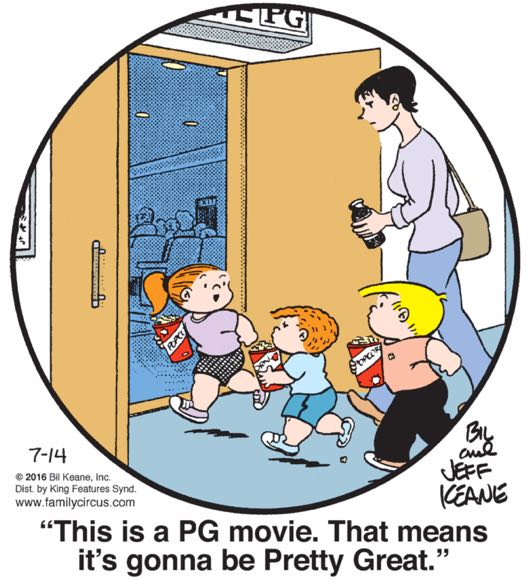 Mommy's grim facial expression tells us exactly what she thinks of the MPAA's censorious reign of prudery and its effect on film as an art form. "More like a Profoundly Grotesque stifling of cinema's ability to shock us out of our comfort zones," she thinks, glowering at her hopelessly middlebrow children.