Post Content
Funky Winkerbean, 8/14/16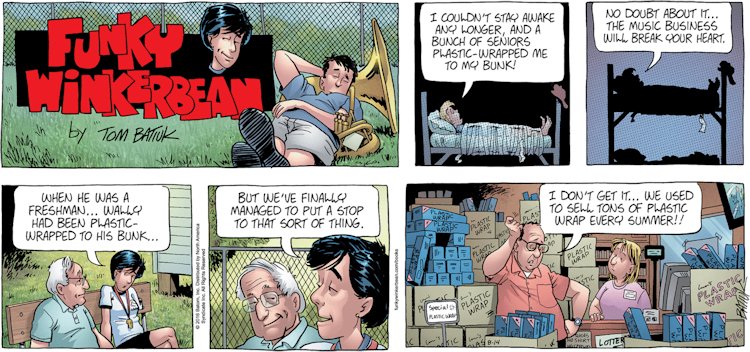 All week long we've been enduring tell-don't-show conversations about "hazing" followed by weak-sauce wordplay, ain't-it-awful mopery, and one incredibly off "joke" about depriving a sick old man of his oxygen. So I suppose we should be glad that Sunday's strip finally shows us some actual hazing? And even more glad that hazing is now a thing of the past, having been overcome through unspecified single-handed efforts by our chop-jawed heroine Becky here?
Nope! This is Funky Winkerbean, and that last panel is there to show us that no matter how good things may seem, somebody suffers. Somebody always suffers.
PS. If you really want to suffer, try taking a nap on a Sousaphone some time.
Rex Morgan, M.D., 8/14/16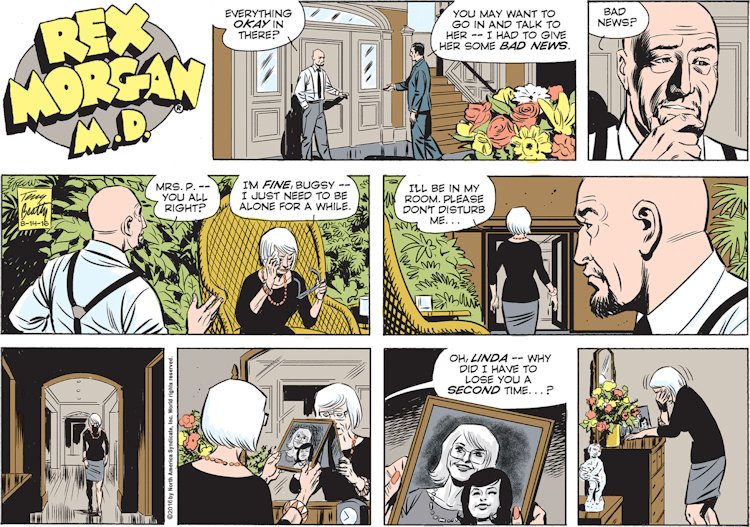 After learning that Dolly Pierpont artificially spun up Sarah's career by buying all her horsey pictures and museum books, Rex spent the week telling her to back the hell off with the chauffeur-driven Mercedes, private-school tuition, art lessons, museum donations, and soirée guest-of-honor slots, and let Sarah earn her own honors. Dude, who are you, and what have you done with the real Rex Morgan?
Now we learn that Dolly was only trying to buy Sarah as a replacement for her dear departed Linda. You know, if she'd come to Rex with that deal in the first place, I'm sure they could've worked something out.
Judge Parker, 8/14/16 (panels)

I'll spare you more "Neddy has a sad" panels. The real action is rolling down from Morristown in the rain, doubtless approaching Chekhov's Curve off the main road to Alpine Pass. Enjoy A Sip Of vodka, Zeke and Ms. Honey "Does Not Understand Inventory Management" Ballenger – you're in for a long night!
---
Well, that's it for me. Thanks for a fun week — Josh will be back bright and early Monday.
— Uncle Lumpy